Mathias Kessler - The Taste of Discovery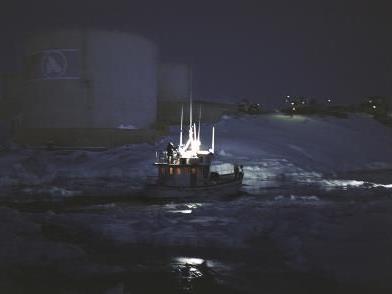 Ausstellung im Kunstraum Dornbirn. Der 1968 in Kempten geborene und im Kleinwalsertal aufgewachsene Mathias Kessler, lebt und arbeitet heute in New York City.
Eröffnung: Donnerstag, 10. September, 20 Uhr
Dauer: 11. September bis 8. November 2009
Der 1968 in Kempten geborene und im Kleinwalsertal aufgewachsene Mathias Kessler, lebt und arbeitet heute in New York City. In seinen künstlerischen Arbeiten stellt Kessler das romantisierende Streben der postmodernen Ökologiebewegung und unsere Sehnsucht nach Ursprünglichkeit und Unberührtheit in Frage. Seine aufwändigen Expeditionen führten ihn in seiner Suche nach der perfekten Nachtaufnahme im Sinne des amerikanischen Fotografen Ansel Adams bereits in die abgeschiedensten und entlegensten Gebiete Amerikas und der Welt. Geschickt thematisiert Kessler dabei unseren Umgang mit dem Eingriff in die Natur und der Frage wie Landschaft konsolidiert und kultiviert werden soll oder kann. Der Kunstgeschichte fügt er so nicht nur ein weiteres spannendes Nachtstück hinzu, sondern hinterfragt kritisch die Authentizität von erlebter Natur. Er verweist darauf, dass Natur längst nicht mehr das Gegebene, sondern das Herstellbare ist. Denn Natur wird heute im Spannungsfeld von natürlich und künstlich nicht nur rezipiert, sondern rekonstruiert und kreiert.
In seiner eigens für den Kunstraum Dornbirn entwickelten Arbeit "The Taste of Discovery" setzt sich Kessler mit der Extremerfahrung, dem Geschmack und buchstäblich dem Geruch von arktischen Expeditionen auseinander. Den Ausgangspunkt bildet dabei die berühmte Annonce für Sir Ernest Henry Shackletons Entdeckungsreise von 1901 in der LondonTimes: "Men wanted for hazardous journey. Small wages, bitter cold, long months of complete darkness, constant danger. Safe returns doubtful. Honor and recognition in case of success." Die Entdeckungsreise in Kesslers Installation entführt die BesucherInnen in zwei Raumbereiche. Ein Raum spiegelt buchstäblich mittels eines vereisenden Spiegels die Eiseskälte der gefährlichen Welt der Arktis-Expeditionen eines Sir John Franklin vor dem filmisch in höchster Perfektion festgehaltenen, um seine eigene Achse rotierenden Eisberges (2007) wider. Der zweite, einen Maschinen-Mannschaftsraum assoziierende Bereich ist stark überhitzt und konfrontiert die Eintretenden zwischen Spind, Arbeitskleidung, Dieselkanistern und Motoröl mit Expeditionsgerüchen ebenso wie Maschinenhitze, Expeditionskarten und Dokumenten. Dass wir jedoch heute zurzeit von Realtime, Youtube und Satellitenüberwachung leben, wird in dem Found Footage Video "Nowhere to Be Found" (2009) deutlich. Beim Verlassen der Ausstellung werden die BesucherInnen eingeladen, Karten mit Routen von Expeditionen, die mit dem vom Künstler in Zusammenarbeit mit einem Parfümhersteller entwickelten Expeditionsparfüms besprüht wurden, mitzunehmen.