Vorarlberger Metal-Band "The Sorrow" erobert Youtube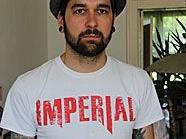 Hard -  "The Sorrow", eine Vorarlberger Metal-Band, erreichte mit ihrem neuen Song auf Youtube über 12.000 Klicks in nur fünf Tagen. VOL Live sprach mit Gitarrist Andi Mäser.
"Wir haben in diesen Song Elemente reingebracht, die wir sonst nicht verwenden", sagt The Sorrow-Gitarrist Andi Mäser. "Wir wollten schon immer mal etwas in Richtung Ballade machen, etwas ruhigeres, bei dem nicht wie sonst die ganz schweren Geschütze ausgefahren werden."
The-Sorrow-Video erreicht 12.000 Klicks
Dieser Plan ist aufgegangen: Mit "Farewells", einem atmosphärischen, dichten und melodiösen Stück, erreichte The Sorrow die Massen. Über 12.000 Youtube-Klicks in nur fünf Tagen beweisen: Nicht nur eingefleischte Metal-Fans mögen die Musik der vierköpfigen Vorarlberger Band. Für Andi Mäser kein Grund, die Bodenhaftung zu verlieren: "Ich wünsche mir ganz einfach, dass wir noch in zehn Jahren gemeinsam auf der Bühne stehen und gute Musik machen", sagt er. Dann packt er seine Sachen: The Sorrow treten heute Abend im Liechtensteinischen Balzers auf. 
Video: Interview mit Andi Mäser
The Sorrow mit "Farewells"