"The Goldtops" im Finale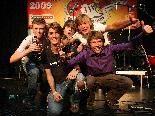 Interview mit Siegern der "Beste Band"-Bezirksvorausscheidung im Alten Kino Rankweil.
Sie sind zwischen 17 und 18 Jahre alt, kommen aus Dornbirn und Feldkirch und machen seit einem Jahr zusammen Musik. Die Rede ist von den Gewinnern der ersten Vor-ausscheidung im "Beste Band"-Contest von "VN", VOL und Antenne Vorarlberg – "The Goldtops", bestehend aus Sänger Martin Roderick alias "Rodi", Matthias Kollos (1. Gitarre), Martin Spiegel (2. Gitarre), Johannes Tiefenthaler (Bass) und Christoph Gallaun (Schlagzeug).
Junge Rockmusik
Die fünfköpfige Truppe spielte sich beim ersten Bezirks-abend im Alten Kino in Rankweil, moderiert von Antenne Vorarlberg-Moderator Philipp Fasser, seines Zeichens Bandleader von "an-na", mit einer explosiven Mischung an innovativer, junger Rockmusik in die Herzen des Publikums und der Jury.
Als "fünf junge, gutaussehende, wilde Männer", von denen man bestimmt noch einiges zu hören bekommen werde, bezeichnete Musiker und Juror Bernd Konzett die musikalisch überzeugenden Jungs und diesem Urteil konnte sich auch Gerald Fleisch ("Fleisch & Fleisch), Martin Hämmerle (Jazzseminar Dornbirn), Christian Surala ("The Artistry") sowie Christoph Comper (von der Vorjahres-Siegerband "Golden Reef") einstimmig anschließen. Somit stand kurz vor 22 Uhr fest: "The Goldtops" ziehen am 5. November ins "Beste Band"-Contest-Finale ein!
"VN"-Heimat: Wie und wo habt ihr euch kennengelernt?
Matthias Kollos: Wir haben uns teils in der Schule und auch über die Freizeit kennengelernt. Drei von uns musizieren schon seit sechs Jahren zusammen. In der jetzigen Konstellation gibt es uns seit einem Jahr – und die Chemie stimmt einfach!
"VN"-Heimat:Wie habt ihr euren Auftritt selbst empfunden?
Martin Roderick: Einfach super, es hat alles gepasst. Wir haben uns die Seele aus dem Leib gesungen und geschlagzeugt.
Johannes Tiefenthaler: . . . es war einfach ein Auftritt, wo mal wirklich nichts schief gegangen ist und alles geklappt hat.
"VN"-Heimat: Wie haben die Vorbereitungen ausgeschaut?
Martin Spiegel: Nun ja, das Problem war, dass ich bis vor Kurzem noch einen Gips hatte und wir also nicht komplett proben konnten. Jetzt aber, für das Finale am 5. November, geben wir voll Gas!
"VN"-Heimat: Wer sind eure musikalischen Vorbilder?
"The Goldtops":  Wir haben alle ganz unterschiedliche Favoriten, von "Queens of the Stone Age" über "Muse", "Foo Fighters" und "Madsen" bis hin zu Jazz-Musiker Christian Muthspiel. Diesen vielseitigen Mix an Vorlieben bringen wir natürlich auch beim Komponieren ein. Die Entstehung der Songs erfolgt in Gemeinschaftsarbeit, jeder kann seine guten Ideen somit einbauen.
"VN"-Heimat: Wie haben euch die anderen Bands von der ersten Vorausscheidungsrunde gefallen?
"The Goldtops": Besonders von "Rivers Avenue" waren wir begeistert. Ein gemeinsames Konzert wäre durchaus denkbar!
"VN"-Heimat: Wie schaut's mit der Unterstützung durch eure Familie aus? Sind sie stolz auf euch?
"The Goldtops": Klar, gerade unsere Papas stehen voll hinter uns und sind megastolz.
"VN"-Heimat: Welche "Taktik" werdet ihr anwenden, um euch den Finalsieg zu holen?
"The Goldtops": Das ist natürlich noch streng geheim . . .
Bezirksabend/Vorausscheidung in Lustenau:

Donnerstag, 8. Oktober im

Carinisaal

mit Julce, Maguams, Result of Boredom, RiseFalling, Samt

Bezirksabend/Vorausscheidung in Bludenz:

Donnerstag, 15. Oktober,

Remise

mit 79ers, Morpheuzband, Point-Blank, Realize, Aggressiv 

Bezirksabend/Vorausscheidung in Hard:

Donnerstag, 22. Oktober, Kammgarn mit Cyrus, First Impression, Synge, M. Corvin, Ignited Corpses

Beginn

jeweils um 19 Uhr, Einlass ab 18.30 Uhr, Karten an der Abendkasse
FINALE: Donnerstag, 5. November, Spielboden Dornbirn, Kartenvorverkauf in allen Vorarlberger Sparkassen und bei v-ticket; mehr Infos auf laendlebands.vol.at