The Golden 80s in der Mausefalle @ Hard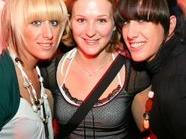 Nach tollem Einstand im Juni sind die "golden 80s" am 25.09. zurück in der Mausefalle der Nachtschicht in Hard. Auch dieses Mal darf zu den besten Rhythmen aus dem goldenen Jahrzehnt das Tanzbein bis in die frühen Morgenstunden geschwungen werden.
DEPECHE MODE vs. U2 SPECIAL
Mit weltweit über 100 Millionen verkauften Tonträgern gelten die irischen Rocker von U2 als eine der erfolg- und einflussreichsten Bands der letzten 25 Jahre. Zweifelsohne in der gleichen Liga mischen die Synthie-Poper von Depeche Mode mit. Mehr als Grund genug die beiden Urgesteine mit einem fetten Sound-Special zu würdigen.
Von "Sunday Bloody Sunday" hin zu "Where the Streets Have No Names" und retour mit "Master and Servant" und "Just Can't Get Enough" – DJ U3 (Inatura Dance Party), und die Resident DJs der Mausefalle, versorgen euch mit den Kulthits von damals.
Darüber hinaus werden Skandale im Sperrbezirk ausgelöst, Ehrenrunden mit Major Tom geflogen und mit dem goldenen Reiter die Sennerin vom Königssee abholt. Kurz und bündig: alles was in den 80ern hipp war, gibt's frisch aufbereitet im Sound-Mix XXL.
LADIES SPECIALS:
Wie immer an den "golden 80s" hat es die Damenwelt besonders gut. Der Eintritt ist für Ladies bis 22:30 Uhr frei – einen leckeren Welcome-Shot gibt's als Draufgabe.
Visuell abgerundet wird der Abend mit den TV-Helden von früher. Barba Papa, Captain Future und viele mehr lassen grüssen! In diesem Sinne: Let's boogie, let's dance, let's fetz!