Manao - Drums of China in Bregenz zu Gast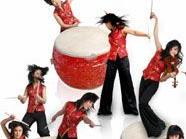 Die erfolgreichste Percussionperformance aus dem Reich der Mitte ist 2010 erstmalig auf großer Tournee in Europa Tournee - und stattet in diesem Rahmen auch Bregenz einen Besuch ab.
MANAO – das sind sechzehn atemberaubend bildhübsche, junge, chinesische Trommlerinnen die bei ihrer Performance traditionelle chinesische Rhythmen mit weltbekannten Melodien zu einem akustischen Trommelfeuerwerk verbinden. Seit den ersten Auftritten im Jahre 2001 in China haben MANAO – Drums of China mittlerweile mehr als 1.000 Events in China, USA, Kanada, Singapur, Südafrika und Australien gespielt. Jetzt kommt MANAO – Drums of China erstmalig nach Europa auf Tournee und wird auch in sechs österreichischen Städten zu Gast sein.
Der bisherige Höhepunkt war zweifelsohne die faszinierende und überwältigende, knapp zwölf Minuten lange Performance im Rahmen der Eröffnungsfeier der Olympischen Spiele 2008 in Peking bei denen die chinesischen Percussionskünstlerinnen für weltweite Furore sorgten und höchste Anerkennung ernteten. Seither zählt die Gruppe zu einem der am meist angefragten Live-Acts überhaupt. Wenn die jungen Trommlerinnen die bis zu 350 kg schweren Schlaginstrumente mit Präzision in Perfektion, kraftvoll, dynamisch bearbeiten und dabei ein rhythmisches Klangfeuerwerk entfachen ist dies ein einzigartiges und musikalisch unvergessliches Ereignis. MANAO – Drums of China, das ist sportliche Höchstleistung stilvoll gepaart mit Traditionsbewusstsein, kunstvoll und mitreißend in Szene gesetzt.
Die ausschließlich mit jungen chinesischen Frauen besetzte Trommlergruppe MANAO nimmt den Zuschauer während der Darbietungen mit auf die Reise – in einer elektrisierenden und durchgestylten Show voll von ganzheitlicher und zeitgenössischer Ästhetik. Kombiniert mit modernster Lichttechnik und Bühneneffekten sowie einem authentischen und gleichermaßen imposanten Bühnenbild wird die Show von MANAO – Drums of China ihr Publikum in das faszinierende und unglaubliche Reich der Percussionsklangwelten entführen.
20.11.2010 Stadthalle Graz
Kartenvorverkauf in allen oeticket- Verkaufsstellen, Raiffeisenbanken, oeticket-Center Stadthalle 0316/8088200, Zentralkartenbüro, Media Markt, Libro, oeticket-Trafikplus Trafiken sowie unter www.oeticket.com
21.11.2010 TipsArena Linz
Kartenvorverkauf in allen oeticket- Verkaufsstellen, Oberösterreichischen Raiffeisenbanken und Sparkassen; Maximarkt-Filialen, Wels: Kartenbüro Lohmer, Oberösterreichische Nachrichten; Linz: Kartenbüro Pirngruber, Linzer Kartenbüro, Libro, Media Markt, PH-Tickets
22.11.2010 Congress Innsbruck
Kartenvorverkauf in allen oeticket-Verkaufsstellen, Innsbruck Info 0043/512/5356, Tiroler Sparkassen und Raiffeisenbanken, Libro, Media Markt, Verkehrsbüros.
23.11.2010 Salzburgarena (Piccolo)
Salzburg Kartenvorverkauf in allen oeticket- Verkaufsstellen, allen bekannten Kartenbüros und Raiffeisenbanken in Stadt und Land Salzburg, Maximarkt-Filialen, Libro, Media Markt, CTS-Vorverkaufsstellen (z.B. Kartenbüro Scharf)
24.11.2010 Festspielhaus Bregenz
Kartenvorverkauf in allen oeticket-Verkaufsstellen, allen Raiffeisenbanken, Volksbanken sowie bei Bregenz und Dornbirn Tourismus, in allen Verkehrsbüros, Media Markt, Libro, Musikladen Feldkirch und Rankweil, Kiosk Bahnhof Bregenz, Info-Hotline: 0043/5574/4080-0.