Lions stehen im Finale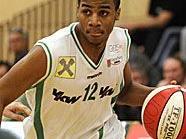 Die Raiffeisen Dornbirn Lions stehen zum dritten Mal in Folge im Play-Off-Finale der Division West und sind damit auch automatisch für das Final Four der 2. Basketball Bundesliga qualifiziert.
Die Löwen ließen sich in Klagenfurt nicht überraschen und starteten ihrerseits furios in das 2. Semifinale: 0:19 leuchtete es von der Anzeigetafel, ehe den Gastgebern die ersten Punkte gelangen. Coach Tuerk hatte die Mannschaft perfekt eingestellt und sprach nach dem Spiel von der besten Defensivleistung des Jahres: "Wir haben heute intensivst verteidigt und vor allem gegen die Innenspieler Ljubenovic und Mader als Team hervorragend gearbeitet."
Zwar liegen die Kärntner nach dem 1. Viertel mit 8:22 im Rückstand, aber die Gastgeber geben in keiner Phase des Spiels auf, wollen die letzte Chance unbedingt nützen. Bis zur Pause verkürzen Mader&Co den Rückstand weiter auf 29:41. Das Spiel in der engen Halle ist von Beginn an eine Defensiv-Schlacht und von vielen Unterbrechungen geprägt. Die Gastgeber bringen vor allem den quirligen Darren Duncan nie unter Kontrolle und können sich oft nur mit Fouls helfen. So erzielt der Pointguard der Löwen 15 seiner 30 Punkte von der Freiwurflinie. Insgesamt erzielen die Dornbirner 32 ihrer 76 Punkte von der Freiwurflinie!
Nach dem Wechsel wollen es die Slowenen aber noch einmal wissen und in der 25. Minute kämpfen sie sich bis auf 44:50 heran. Die Lions geben das Spiel aber nicht mehr aus der Hand und stellen in den nächsten 3 Angriffen den alten 12-Punkte-Vorsprung wieder her. Auch im letzten Viertel dominieren die Defensivabteilungen der beiden Teams. Mit 14:12 können die Löwen diesen Abschnitt für sich entscheiden und so mit dem angestrebten 2. Sieg frühzeitig das Finale erreichen.
Lions im Finale gegen Schwaz
Dort wartet auf die Basketball-Fans ein wahrer Leckerbissen. Die Finalserie gegen die Schwaz Silverminers wird der absolute Höhepunkt der bisherigen Saison. Die Tiroler gewannen ihre Serie gegen Salzburg ebenfalls 2:0 und sind nun heiß auf die Löwen. Am 16.4.2011 steigt ab 18.00 (Tipp-off 18.30) das Duell um den Meistertitel der Division West. Die Löwen genießen dabei das Heimrecht und wollen den Three Peat, doch die Mannschaft um US-Center Brian Freeman will das unbedingt verhindern. Für alle Basketball-Fans heißt es deshalb am 16.4.2011: Come and see the Lions!
KOS Celovec – Raiffeisen Dornbirn Lions 60:76 (8:22, 29:41, 48:62)
Duncan 30, Bas 11, Künstner und Gmeiner je 8, Atterbigler und Nussbaumer je 7, Kern 5, Fend, Jussel.
(Raiffeisen Dornbirn Lions)