Letzte poolbar-Woche: Black Lips, Miss Kittin And The Hacker & Anti-Flag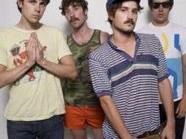 Feldkirch - In der letzten Festivalwoche geht es noch einmal heiß her: Garage-Psychedelic Rock, Elektronik und Politpunk.
Zusätzlich erwartet das Publikum noch Kino, ein Tanzmarathon, der poolbar-Film, ein letztes Jazzfrühstück und noch mehr Musik. 
Von Poppy, einer Lehrerin, die sich auf die heiteren Seiten des oft an sich weniger heiteren Lebens konzentriert, handelt die britische Komödie "Happy-go-lucky" am Dienstag, 11. August. Wie viel Indie-, Stoner- und anderer Qualitätsrock die Vorarlberger Musikszene zu bieten hat, wird am 12. August klar werden: M. Corvin, Stator und The Naughty Daughters lassen die Gitarren bei freiem Eintritt singen.
Garage Rock, Punk'n'Roll, "Flower Punk", Psychedelic Rock – irgendwo zwischen diesen Etiketten werden am Donnerstag (13. August) die Black Lips werken, und das mit Schmackes und neuem Album, "200 Million Thousand". Ihre Live-Shows garnieren die Herren aus Atlanta, Georgia gerne mit exzessiven Elementen – es spielten bereits Hühner, brennende Drums und Feuerwerke eine Rolle. Dazu: Einladung des diabolischen Venus Bop zur One Night of a Sadist.
Ebenfalls am Donnerstag findet die Premiere des poolbar-Films statt – fast 7 Wochen Musik & Kultur von Nischen bis Pop werden auf ca. eine halbe Stunde komprimiert.
Am Freitag, dem 14. August, wird es mit Eristoff Tracks elektronisch: Leider musste Carl Craig krankheitsbedingt (wegen einer nicht aufschiebbaren Operation) seine Auftritte in Europa absagen, aber mit viel Glück und dank guten Drähten konnte kurzfristig gleichwertiger Ersatz fixiert werden: Miss Kittin & The Hacker aus Paris, eines der derzeit weltweit angesagtesten Elektronic-Duos, werden ihr brandaktuelles Album "Two" präsentieren.
Gestartet wird die Party von hdgrm-brln live. Es sind ganz spezielle Anlässe wie das poolbar-Festival, das Diego Krause und Faut Bosser aus Berlin gemeinsam auf die Bühne bringt, wo sie von kühn bis tiefbetrübt ihre unter die Haut gehenden Melodien und technoiden Beats auf das Publikum loslassen.
Der Samstag (15. August) gehört jenen Musikern, die kein Blatt vor den Mund nehmen und ihre – auch gesellschaftspolitischen – Ansichten unüberhörbar kundtun: Die Rede ist vom Punk. Anti-Flag ist eine legendäre US-Punk-Band, die nicht dem mittlerweile salonfähigen Fun-Punk frönt, sondern harten und dennoch melodischen Polit-Punk forciert. Das hat Schmackes, das hat Hirn. Gemeinsam mit Michael Moore riefen sie zu Beginn des Irak-Kriegs zur größten nationalen Anti-Kriegs-Demo innerhalb der USA auf. Zuvor werden Astpai und Rentokill beweisen, dass der Punk auch in Österreich nach wie vor energievoll gepflegt wird. 
Mit einem letzten Jazzfrühstück am Vormittag in entspannter Parkatmosphäre beginnt am 16. August der letzte Tag des 16. poolbar-Festivals: Das Vocal Jazz Trio präsentiert Themen aus dem "Great American Songbook": Jazz, Bossa-Nova, Blues und Soul, von Diana Krall über Ella Fitzgerald bis hin zu Aretha Franklin und Marvin Gaye.
Abends hat man Gelegenheit, ein Best-Of des inhaltlich wie formal abwechslungsreichen Kurzfilmfundus des Wiener biennalem Queer Film Festival identities zu genießen: lustvoll und dramatisch, experimentelle und faszinierende Bilder.
Mit einem – schon traditionellen – Tanzmarathon werden dann die letzten Stunden eingeläutet: Ein unverändert erfolgreiches Konzept garantiert Dirty-Dancing-Feeling bis zum Happy End. Zu gewinnen gibt es u.a. Tickets für die Eröffnung des poolbar-Festivals 2010. 
Das poolbar-Festival dauert noch bis zum 16. August – und so lange wird auch noch kostenlos Programm im "brutkasten" geboten, dem Raum für die Nische; am Mittwoch, 12.8., werden hier in Kooperation mit dem Kunsthaus Bregenz Kurzfilme von David Lynch und Vorarlberger Künstlern/innen gezeigt.
Am 17.August wird die architektonische Einrichtung, v.a. die Wiesenlichter, zum Kauf angeboten – von 18 Uhr bis 20 Uhr im poolbar style café im Alten Hallenbad.
Hauptsponsoren des poolbar-Festivals sind A1, die VKW und die Volksbank Aktivcard.
poolbar-Festival 2009 3. Juli – 16. August, Altes Hallenbad, Feldkirch
Musik & Kultur von Nischen bis Pop.
Verbleibende musikalische Headliner:
Eristoff Tracks: Miss Kittin & The Hacker 14.8.
Dazu Clubbing, Architektur, Kunst, Schauspiel, Tanz, Mode, Film, Poesie und Leben.
poolbar-Festival (im poolbar::style::cafè oder an der Bar im Wohnzimmer)+++Volksbanken in ganz Österreich/Musikladen Concerts, Rankweil (Gewerbepark) Tel. 05522 41000 / webmaster@musikladen.at +++ Musikladen Feldkirch, Johannitergasse 4 +++Ö-Ticket +++ Dornbirn Tourismus, Rathausplatz+++Wien-Ticket / Tel. 01 58885 +++aha – Tipps & Infos für junge Leute / Bregenz, Dornbirn, Bludenz / Tel. 05572 52212 / aha@aha.or.at
Ticketcorner / Tel. 0900 800 800 (CHF 1.19/min.) +++Bro Records, Rorschacher Str. 128, St. Gallen/St. Fiden / Tel. (0)71 230 00 80
Kartenhaus / Tel. 01805 969 0000 (12 Ct/Min) sowie an allen bekannten Vorverkaufsstellen +++Etainme.de / Tel. 0180 5040 300 (14 Ct/Min) sowie an allen bekannten Vorverkaufsstellen +++Lindaupark, Infotheke / Tel. 0043 5522 41000
Bregenz: Crazy Chicken, Jahnstraße 20 / Faktor 7, Bahnhofstraße 23 / ShuZ, Bahnhofstraße 6
Dornbirn: Lingg Fashion, Marktplatz 16 / Livid Departmentstore, Martplatz 13 / ShuZ, Marktplatz 10a
Feldkirch: Altons Skatehouse, Reichsstraße 47 / Musikladen, Johannitergasse 4 / poolbar style cafe während des poolbar-Festivals jeden Mi, Do, Fr und Sa / Sajas, Mühletorplatz 3 / Feldkirchner Tourismus, Palais Lichtenstein, Schlossergasse 8
Graz: tag.werk/kauf.geschäft, Mariahilferstr. 13
Linz: Alex – Die Buchhandlung, Hauptplatz 17 / Living Small, Klammstraße 14
Sulz: Acha Ethno Trade, Müsinenstrasse 14
Wien: Advanced Minority Showroom, Zollergasse 2, 1070 Wien