Klangvolles Herbstkonzert mit besonderen Ehrungen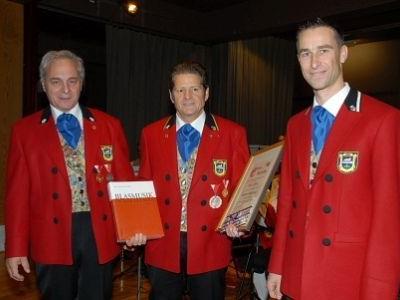 Altach. Ehrenkapellmeister Karl Fend hat zum Jubiläumskonzert aus Anlass seiner 30-jährigen Kapellmeistertätigkeit ein anspruchsvolles Programm mit seinen Musikant(innen) einstudiert, das von einem großen Publikum beim Konzert am vergangenen Sonntag im Vereinshaus begeistert aufgenommen wurde. Bilderserie
Bevor die Jugendkapelle unter der Leitung von Vizekapellmeister Robert Müller den Konzertreigen eröffnete, stieß beim Sektempfang das "Charlygramm", eine von Hermann Gächter erstellte Fotogalerie mit markanten Stationen im Musikleben Karls, auf Bewunderung.
Mit dem Stück "Prelude to a Celebration" eröffnete unter der Moderation von Karin Weber das große Orchester das Programm. Im Bravourstück für Solotrompete "Der Carneval von Venedig" von Adolf Angst konnte Marco Nigsch so richtig aufgeigen und zeigen was in ihm steckt. Dies gelang ihm auf hervorragende Weise. Mit der Komposition "Oregon" von Jacob de Haan wurden die Gäste dann in die Pionierzeit des Amerikanischen Westens entführt.
Eingebettet in die hervorragenden musikalischen Darbietungen folgten zwei ganz besondere Ehrungen. Flötistin Angela Niederstätter erwarb als erste Teilnehmerin des Musikvereins Harmonie Altach das Jungmusiker-Leistungsabzeichen des Vbg. Blasmusikverbandes in Gold. Mit der Polka für Soloflöte "Pie in the Face" schaffte sie bei ihrem Solo facettenreiche Klangbilder und erntete Beifallsstürme für ihre hervorragende Leistung.
Anschließend wurde Ehrenkapellmeister Karl Fend für seine 30-jährige Kapellmeistertätigkeit mit dem Goldene Ehrenring des Musikvereins und dem Goldenen Kapellmeisterehrenzeichen des VBV ausgezeichnet.
Obmann DI Christoph Märk zeichnete ein eindrucksvolles Bild von ihm und seinen Leistungen, nicht nur über 30 Jahre Kapellmeistertätigkeit, sondern über 40 Jahre musikalisches Wirken. Den Gratulationen schloss sich auch Dr. Elmar Rederer, Vizeobmann des VBV, an und betonte in seiner Laudatio die Bedeutung der Blasmusik.
Nach dem zweiten Teil mit gehobener Unterhaltungsmusik forderte ein begeistertes Publikum gleich drei Zugaben, bevor in geselliger Runde nach einem gelungenen Konzert ein reger Austausch zwischen Musikant(innen) und Gästen gepflegt wurde.
Brigitte Hellrigl
Achstr. 6, 6844 Altach, Austria