IMAX Eröffnung am 19. Mai im Cineplexx Hohenems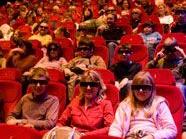 Nach den Cineplexx Kinos in Wien und Graz erhält nun das Cineplexx Hohenems einen eigenen IMAX Kinosaal. Kinobesucher erleben Hollywood-Blockbuster wie "Pirates of the Carribean – Fremde Gezeiten" exklusiv in IMAX-Qualität und 3D.
Hohenems: Am 19. Mai ist es soweit: Das IMAX-Erlebnis kommt mit Captain Jack Sparrow nach Vorarlberg. Das neue IMAXKino im Saal 9 des Cineplexx Hohenems wird seinen Besuchern ab sofort das weltweit beste und beeindruckendste Kinoerlebnis bieten. "Ein innovatives Land braucht innovative IMAX-Technologie", sagt Christian Langhammer, geschäftsführender Gesellschafter der Constantin Film Unternehmensgruppe. "Deshalb ist es uns wichtig die moderne IMAX-Technologie nun auch in Hohenems mit anzubieten. So unterstreichen wir gleichzeitig unsere Vorreiterrolle und Marktführerschaft in Österreich."
Cineplexx in Hohenems: Kinoerlebnis auf neuestem Stand der Technik
Das neue IMAXKino zeigt Hollywoodfilme, die mit der DRM (Digital Re-Mastering) Technologie digital verbessert wurden und nun mit unvergleichlicher Bildqualität und klarstem Sound glänzen. Die maßgeschneiderte IMAXSaalgeometrie optimiert das Sichtfeld. Das heißt, die Bildwand ist leicht gekippt, reicht vom Boden bis zur Decke und rückt näher an die Kinobesucher.
Larry O'Reilly, Executive Vice President der IMAX Corporation, zu IMAX in Österreich: "Die IMAX-Marke ist hier bereits bekannt. Und mit unserem Partner Constantin Film bieten wir den qualitätsbewussten Kinobesuchern eine neue Technologie und eine größere Bandbreite an Filmen. Viele der großen Hollywood-Blockbuster werden dieses Jahr in IMAX und IMAX 3D Qualität starten." Der Hohenemser Premierenfilm "Pirates of the Caribbean – Fremde Gezeiten" ist in Hohenems in IMAX3D Technologie erlebbar.