Herbstkonzert als Jubiläumskonzert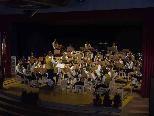 Klaus. Anlässlich des 110-jährigen Bestandsjubiläums lud die Bürgermusik Klaus zu einem stimmungsvollen Herbstkonzert in den Winzersaal ein. Bilderserie
Die Bürgermusik Klaus gestaltete im Winzersaal ein beeindruckendes Herbstkonzert. Das gut besuchte Konzert am Samstag stand unter dem Motto "TRADIMO". Dem Kürzel des Mottos entsprechend, wurde sowohl traditionelle als auch moderne Blasmusik auf hohem Niveau geboten.
Kapellmeister Markus Summer lotste mit klarer Zeichengebung die Musikantinnen und Musikanten einfühlsam durch das anspruchsvolle Programm. Summer beschreitet als musikalischer Leiter bei der Programmauswahl immer wieder unkonventionelle, interessante Wege.
Bei "El Quijote", einer Komposition des 42-jährigen Spaniers Ferrer Ferran, erzählte Mario Kätzler als Sprecher von den ritterlichen Taten der beiden Hauptfiguren, des idealistischen Träumers Don Quijote und seines nüchternen Freundes Sancho Pansa, während die Musikkapelle mit weicher Tongebung für einen orchestralen Klang sorgte, wobei besonders das Saxophonregister angenehm zur Geltung kam.
Mit Melodien aus "The Phantom of the Opera" von A. L. Webber führten die Musikerinnen und Musiker ihre Zuhörerschaft in die Katakomben der Pariser Oper. Wohltuende Harmonien wechselten mit imposanten Unisonostellen, dynamische Akzente wurden präzise gesetzt, ungewohnte Klangeffekte überraschten ebenso wie die Brillanz, mir der das Flötenregister musizierte.
Mit dem Velo fuhr jener Solist durch den Winzersaal bis zum Konzertpodium, welcher im schnellen Stück "The Typewriter" das Solo auf der mechanischen Schreibmaschine rhythmisch exakt klopfte. Der abschließende Konzertmarsch "Per aspera ad astra" war dann so richtig nach dem Geschmack der Freunde eher traditioneller Blasmusik.
Anna Henslerstr. 15, 6833 Klaus, Austria