Über 2000 Besucher bei emsiana 2010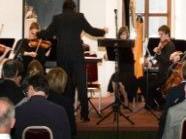 Die zweite Auflage der emsiana in Hohenems ging am Sonntag erfolgreich zu Ende. Über 2000 Menschen besuchten am vergangenen Wochenende das Kulturfest. Organisator Markus Schadenbauer-Lacha zieht eine positive Bilanz.
Vier Tage lang drehte sich in Hohenems alles um die Begegnung mit Kultur aus Vergangenheit und Gegenwart. Zur Auswahl standen Konzerte, Lesungen, Vorträge und Ausstellungen. Mit über 2000Besuchernwurde das Ergebnis aus dem Vorjahr noch übertroffen. "Publikumsrenner waren die Konzerte wie zum Beispiel die Eröffnung mit "tonart sinfonietta", "The Klezmer Connection" und "Fatima Spar and the Freedom Fries"", berichtet der Organisator Markus Schadenbauer-Lacha. Aber auch die anderen Programmpunkte verzeichneten regen Zulauf.
Bereits bei der Eröffnung am Donnerstag sorgte "tonart sinfonietta" und der Auftritt des jungen Solisten Kian Soltani für ein erstes musikalisches Highlight. "Hohenems ist merkwürdig. Würdig, dass man sich Hohenems merkt", so Hubert Dragaschnig in der Eröffnungsrede, die von Michael Köhlmeier eigens für diesen Anlass geschrieben wurde.
Wie ein betretbarer Roman
In dem Text bezeichnete Köhlmeier Hohenems als schizophren. Denn jeder Tritt sei Gegenwart und gleichzeitig Vergangenheit. Er lobte in seinem Text diverse Entwicklungen, kritisierte aber auch politische Ereignisse der jüngsten Vergangenheit. In dem sehr persönlichen Text gab es aber vor allem Raum für Erinnerungen: Er ließ Vater, Mutter, Oma, Ehefrau und Tochter zu Wort kommen. Und er resümierte: "Hohenems ist wie ein betretbarer Roman. Es gibt so viele Autoren wie es Bewohner gibt."
Noch am Eröffnungsabend gab es im Anschluss die Möglichkeit bis Mitternacht die diversen Ausstellungen zu besuchen. "Unser Konzept, Kunst an sehr geschichtsträchtigen Stätten, wie zum Beispiel das Elkan-, das Brettauer- oder das Kitzinger-Haus, und in derartiger räumlicher Nähe zu präsentieren, ist in Vorarlberg sicher einmalig", so Schadenbauer-Lacha.

Besonders froh war der Fest-Organisator auch über das Konzert von "Fatima Spar and the Freedom Fries": "Wegen der Vulkanasche saßen die Künstler über eine Woche in New York fest."
Das Konzert selbst war ausverkauft und die in Hohenems geborene und türkischstämmige Fatima Spar sorgte mit ihrem ganz besonderen Stil zwischen Jazz, Swing, Varieté und Calypso für Begeisterung bei den Besuchern.
Schadenbauer-Lacha: "Wir bekommen viele positive Rückmeldungen vor allem zur Programmauswahl und zur Breite des Angebotes. Wir sind uns sicher, dass wir auf dem richtigen Weg sind und werden das Fest im nächsten Jahr fortsetzen."