Anmeldung für das Spielgruppenjahr 2010/11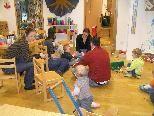 SPIELGRUPPEN für Kinder ab 2 Jahren, vormittags oder nachmittags (1 Gruppe mit einer ENGLISCH SPRACHIGEN BETREUERIN)
The English Playgroup is a good way for children to pick up some english words from what they hear, as we speak english the whole time during the english playgroup. Other examples are from books and songs we sing in english. The english playgroup is run in the same way as a normal playgroup. If you are interested you are welcome to come along to Spielschössle in Vorarlberger Wirtschaftspark on Tuesday from 2-5 pm.
ELTERN-KIND-GRUPPEN: In den EKI – Gruppen können die Kinder mit sicherer Rückendeckung von Mama, Papa oder Oma miteinander spielen, herumtollen, neue Erfahrungen sammeln. Für Kinder im Alter ab 6 Monaten.
Infos und Anmeldemöglichkeit: Freitag, 7. Mai 2010, im Rahmen des offenen Nachmittags von 14:30 – 17:30 Uhr im Vorarlberger Wirtschaftspark (VWP).
Die anwesende Betreuerin unterstützt die Eltern an diesem Spielnachmittag, die Verantwortung für die Kinder liegt bei den Eltern/Begleitpersonen.
Beitrag: € 4,–/Kind, € 1,– fürs Geschwisterkind
(keine Anmeldung erforderlich, einfach vorbeikommen, kein regelmäßiger Besuch erforderlich, bitte Jause und Hausschuhe mitbringen)
Infos: Tel.: 0650 55 467 00