21. Szene Openair: Das Line Up ist komplett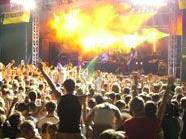 Mit Volbeat ist es dem Team des Szene Openairs gelungen, den wohl bekanntesten Headliner der letzten Jahre aufs Szene Openair zu holen.
Die Band aus der dänischen Hauptstadt Kopenhagen ist nicht mehr aus der internationalen Rock-Szene wegzudenken. Wegen des extravaganten Gesangs von Frontmann Poulsen und dem Einfluss der Sixties wird oft von "Elvis-Metal" gesprochen. Obwohl oder gerade weil die Jungs stilistisch immer wieder für kleine Überraschungen sorgen, folgen ihnen ihre Anhänger überall hin. Das Szene Openair ist das einzige Festival Österreichs, auf dem Volbeat auftreten werden!
Auch neu im Line Up sind Bunny Lake, die Elektro-Popper aus dem schönen Wien. Das Trio mit Frontfrau Suzy On The Rocks hat bei den Amadeus Austrian Music Awards 2009 die Kategorie "Electronic/Dance" gewonnen. Zuletzt überzeugten Bunny Lake mit ihrem 2010 veröffentlichten Album The Beautiful Fall.
Im Dance, Pop und Electro Genre bewegen sich FM Belfast. Die Isländer aus Reykjavík sind noch ein recht junges Gespann. 2005 formierte sich das Trio, das zuerst als reine Studioformation agierte. Mittlerweile variiert die Bandgröße zwischen drei und acht Mitgliedern – je nachdem, "wer Zeit hat". Die Live-Auftritte der Musiker sind oft dadurch geprägt, dass namhafte Schlagzeuger ein Gastspiel geben. Man darf gespannt sein.
Holy Grail werden das Szene-Publikum mit feinem Metal der alten Schule á la Iron Maiden begeistern. Die Musiker sind die neuen Stars am Metal-Himmel der Metropole Los Angeles. Die fünf Amerikaner sind aktuell als "Best New Band" für die "Metal Hammer Golden God Awards" 2010 nominiert. Bis zu ihrem Auftritt auf dem 21. Szene Openair basteln die Jungs an ihrem ersten Studioalbum, das diesen Sommer erscheinen soll.
Im deutschen Elektropop bzw. Elektropunk fühlen sich Grossstadtgeflüster musikalisch zu Hause. In ihren Texten spricht das Trio über Themen wie persönliche Freiheit, ein Leben abseits der Norm und auch – wie könnte es anders sein – über die Liebe. Beim Live-Auftritt auf der Szene Bühne ist beste Festivalstimmung garantiert.
Wie schon in den letzten Jahren, werden auch heuer einige der Bands des Conrad Sohm Talentewettbewerbs 2010 auf der Szene-Bühne anzutreffen sein. Neben den Gewinnern The H, haben Skeet aus Liechtenstein, Woodbridge und die Elektro-Formation Synge einen fixen Platz im Line Up.
Die Nächte kann man sich auf dem 21. Volksbank Vorarlberg Szene Openair bestens um die Ohren schlagen, entweder mit Elektro oder mit Alternative/Rock. Namhafte DJs werden die Festivalbesucher bis in die Morgenstunden zum Tanzen bringen.
Freitagnacht sorgen Guerrilla Nursery mit Wildlife für feinsten Elektro. In derselben Nacht heizt das Conrad Sohm Ländle Calling Spezial den Anhängern des Alternative/Rock so richtig ein.
Samstagnacht werden Monkeybreaks für Beats sorgen, bei denen niemand stillhalten kann, und die K-Shake Alternative DJs haben die richtigen Songs für das rockbegeisterte Publikum parat. Weitere DJ-Acts sind die Talente Clubnachtsieger Shitbrix!, Aced Nero & Miss Valentina sowie E-Xquisite.
Mit den weiteren Bands Seventyniners, Batman & Robin, Scrubs, Rien Ne Va Plus, Ohne Filter, Unfamous, Funkstreife 6, Locita, The Free Drops und den Aero Submarines ist das Line Up des 21. Volksbank Vorarlberg Szene Openairs nun komplett.
Das Szene Openair Programm 2010 im Tagesüberblick:
VOLBEAT
MAX HERRE
LIRICAS ANALAS
HOLSTUANAR MUSIG BIGBANDCLUB
WOODBRIDGE
THE H
PLINGG SLOT: SCRUBS
SHITBRIX!
E-XQUISITE
ACED NERO & MISS VALENTINA
MILOW
BLIGG
IAMX
MARTIN JONDO
BUNNY LAKE
FM BELFAST
HERBSTROCK
TV BUDDHAS
KLONK
RIEN NE VA PLUS
SKEET
SEVENTYNINERS
OHNE FILTER
UNFAMOUS GUERRILLA NURSERY mit WILDLIFE
LÄNDLE CALLING
ADAM GREEN
THE SOUNDS
PAPA ROACH
BLUMENTOPF
HOLY GRAIL
GROSSSTADTGEFLÜSTER
RED LIGHTS FLASH
EZRA FURMAN & THE HARPOONS
NOFNOG
SYNGE
BATMAN & ROBIN
CYRUS
THE GOLDTOPS
FUNKSTREIFE 6
LOCITA
THE FREE DROPS
AERO SUBMARINE
MONKEYBREAKS
K-SHAKE ALTERNATIVE DJ´s
Ab sofort sind Festival-, VIP- und Tagespässe zu vergünstigten Vorverkaufspreisen bei allen Volksbanken mit AKTIVCARD-Ermäßigung, Musikladen, Aha, Oeticket, Ticketcorner und Kartenhaus erhältlich.
Achtung: Tages- und VIP-Pässe werden nur in stark limitierter Anzahl ausgegeben!