Werde Teil des dynamischen Wachstums - Hi-Tech mitgestalten. - Deine Chance. - Lernen von den Besten.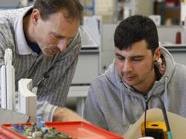 Stromnetze und Anlagen sind sensibel. Mit innovativer Prüf- und Messtechnik hilft BAUR sie zu schützen. BAUR sucht Visionäre voll Energie.
Jedes Team, jedes Unternehmen mit seinen Mitarbeitern und Kunden ist ein Netzwerk. BAUR steht für "Ensuring the Flow". Mit der wertschätzenden Unternehmenskultur eines Familienunternehmens und der Dynamik des internationalen Marktführers schaffen wir ein einzigartiges Arbeitsklima.
Für Lehrlinge bietet BAUR attraktive Rahmenbedingungen, Zeit zum Lernen und den Raum, zu bewegen und zu gestalten. Hochqualitative Ausbildung dient beiden, dem Lehrling und dem Unternehmen. Eine Lehre bei BAUR schafft und sichert Zukunft im globalen Wettbewerb und bietet hervorragende Karrieremöglichkeiten für unsere Jugend.
Lehrlingsausbildung als Nachwuchsförderung hat bei BAUR Tradition. Die erfolgreichen Berufs- und Lebenswege unserer ehemaligen Lehrlinge bestätigen dies. Sie sind heute anerkannte Experten in ihren Fachgebieten und leisten wertvolle Beiträge zur Unternehmensentwicklung.
Wir suchen hochmotivierte junge Mitarbeiter, die sich für Elektronik, High-Tech und Naturwissenschaften wie Physik und Mathematik begeistern. Mit Start September 2012 bilden wir folgende Lehrberufe aus:
Während der Ausbildung lernt ihr neben verschiedenen Abteilungen auch die Entwicklung kennen und werdet in kleinen Gruppen individuell geschult.
Montage von elektronischen Komponenten und Teilmontage von Messgeräten
Programmierung von Mikrocontrollern
Kabelkonfektion
Anfertigung von Schaltplänen
Bearbeiten eines Projektes z.B. im Bereich Steuerungen
Metallbearbeitungstechniker
Als Lehrling in unserer Metallbearbeitung lernst du den richtigen Umgang mit Metall.
Schweissen von Stahl, Alu, Chromstahl
Drehen von mechanischen Bauteilen
Bohren von Befestigungskomponenten
Verarbeitung von Kunststoff
Stromnetze und Anlagen sind sensibel. Mit innovativer Prüf- und Messtechnik helfen wir unseren Kunden sie zu schützen. BAUR Produkte unterstützen zum Beispiel die präzise Fehlerortung von elektrischen Versorgungskabeln und die Zustandsüberprüfung dieser Kabel.  
BAUR steht für "Ensuring the Flow". In Österreich, in Europa, weltweit. Arbeite mit. Damit der Strom fließt. Werde Teil unseres dynamischen Wachstums und bewerbe dich bei BAUR (Link zu http://www.baur.at/karriere/offene-stellen-lehrberufe.html)
Weitere Information finden Sie unter www.baur.at.
FACTBOX BAUR

Mitarbeiter:

125 (stetig wachsend)

Lehrlinge:

12 (und Du!)

Gegründet:

1945 als Familienunternehmen und auch heute noch in Familienbesitz

Lehrberufe:

Elektronik (3,5 Jahre) – zählt zu den herausforderndsten und zukunftsweisenden Berufen

 

Metallbearbeitungstechniker (3 Jahre) – Top Allround Ausbildung im mechanischen Bereich

Geschäftsfeld:

Produkte und Services zur Prüf- und Messtechnik von Energiekabeln und Transformatorenölen.

Die Produktpalette beinhaltet standardisierte Produkte in Kleinserie, aber auch individuell zusammengebaute Kabelmesswagen.