VOL verlost 3 x 2 Tickets für : THE BOSS HOSS - "Go! Go! Go! Tour"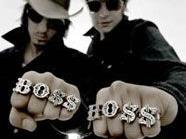 Kick Off für ein neues BossHoss-Jahr: LAST DAY heißt die erste Single, mit der die Cowboys aus Berlin an den Start gehen.
Die Single ist der Auftakt für einen großen BossHoss-Sommer: Nach drei Goldalben erscheint im Juni der neue Longplayer DO OR DIE. Und die Jungs sind sich treu geblieben, ohne dass der Gedanke an Stillstand jemals aufkommen könnte.
LAST DAY ist eine geradlinige Rocknummer, die zum Abfeiern einlädt und damit auch eine Aussage verbindet: "Es geht um ein altes Rock'n'Roll-Thema: "Live fast, die young". Aber in dem Sinne die Vergangenheit zu streichen, neu anzufangen, immer wieder aufzustehen, weil jeder Tag dein erster sein kann" erklärt Bandleader Sascha aka Hoss. Und The BossHoss treten nicht nur mit LAST DAY den Beweis an, das Dranbleiben auch Spaß machen kann: Ihr neues Album präsentieren sie auf einer Open Air Tour in den großen Freilichtbühnen und Arenen der Republik vor jeweils 3.000 bis 10.000 Fans.
"Es ist schon krass, wenn man sich erinnert, wo man herkommt und in welcher kurzen Zeit das alles passiert ist" erklärt Alec aka Boss die Begeisterung der Band für das was jetzt vor ihnen liegt.
Freitag, 27. November 2009, Hohenems, Event.Center Einlass 20:00 / Beginn 21:00
TIPP: Wer nicht gewinnt – es gibt noch einige Karten an der Abendkasse!