TRENDiges Golfturnier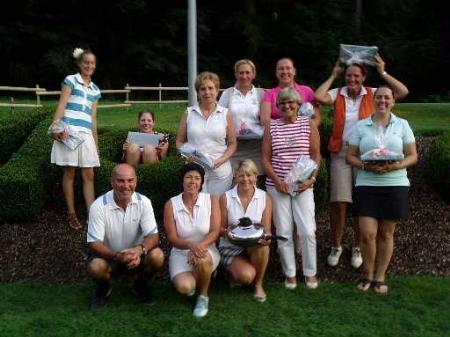 Am 25.08.2011 fand bei optimalen Witterungsverhältnissen das 3. Damenturnier des Golfclub Montafon statt.
Der Sponsor des Turniers Raimund Ganahl (TREND-Products) sorgte bei der Zwischenverpflegung für das leibliche Wohl der Teilnehmerinnen und überreichte bei der Siegerehrung die Preise an folgende Golferinnen:
Brutto:                               Julia Unterweger
Netto Gruppe A:               1. Siri Fleisch, 2. Sabine Hueber, 3. Edda Buschta
Netto Gruppe B                1. Bettina Fleisch, 2. Ingeborg Stemer, 3. Adelheid Marent
Nearest to Pin                   Sabine Hueber
Longest Drive                   Melanie Schuchter
Höhepunkt war die Gewinnübergabe für die Sonderwertung "Nearest to the TREND-Line".
Das 3 teilige TREND-Kochsystem ging an Elisabeth Knobel.