So verbrachten Stars den Vatertag mit ihren Liebsten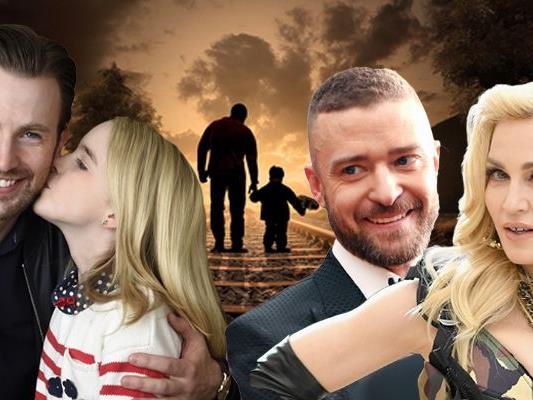 Am Sonntag war Vatertag - für Männer, Frauen und Kinder ein Grund zu feiern. Auch die Stars ließen sich diese Gelegenheit nicht entgehen. US-Popstar Madonna (58) hat sich beispielsweise selbst zum Vatertag gratuliert.
Die Sängerin postete am Sonntag Fotos von sich und ihren sechs Kindern. Dazu schrieb sie: "Alles Gute zum Muttertag, Madonna. Und auch alles Gute zum Vatertag für mich. Denn seien wir ehrlich: Ich bin die Mommy und der Daddy." Am Sonntag wurde in den USA Vatertag gefeiert. Die Musikerin ("Like a Virgin", "Frozen") hat vier adoptierte Kinder aus Afrika und zwei leibliche Kinder, Lourdes und Rocco. Von deren Vätern lebt Madonna seit Jahren getrennt.
Ex-First Lady Michelle Obama postete einen Schnappschuss mit ihren Liebsten: "Alles Gute zum Vatertag Barack. Obwohl unsere Töchter jetzt schon älter und größer sind, bleiben sie immer deine kleinen Mädchen. Wir lieben dich."
Und auch "Captain America" alias Chris Evans wünscht seinem Papa sowie allen anderen Vätern, die ein Vorbild für die Gesellschaft sind, alles Liebe.
Happy Father's Day to the best man I know, and to all the strong fathers out there setting a good example for our future men and women.

— Chris Evans (@ChrisEvans) 18. Juni 2017
Für Mark Hamill ist die Freundschaft zu seinen Kindern der Hauptgewinn. Die Worte "Luke, ich bin dein Vater" bekommen hier eine ganz andere Bedeutung.
"Diese zwei Engel sind das allergrößte Geschenk… Und der Grund, weshalb ich niemals aufhören werde! Fröhlicher Vatertag!", schreibt Justin Timberlake auf Instagram.