Showdown in der Nationalliga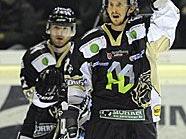 Am Dienstag kommt es im "Ländle" in Feldkirch und Dornbirn zu zwei Entscheidungsspielen um den Finaleinzug.
Dienstag, 15.03.2011, 19:30 Uhr
FBI VEU Feldkirch – HC TWK Innsbruck "Die Haie"
SR: Roland ALTERSBERGER; Timo ETTLMAYR, Oscar WALLNER
Bisherige Saisonduelle: 2:8, 3:5, 4:5, 1:4, 2:1, 3:4 n.V., 2:1, 2:4, 1:4, 5:2
Stand im "Best of Five": 2:2
Mit einem unerwartet deutlichen 5:2-Auswärtserfolg sorgte Feldkirch am Samstag dafür, dass ein fünftes Spiel am Dienstag in der Vorarlberghalle über den Finaleinzug bestimmen muss.
"35 Minuten lang haben wir die Innsbrucker an die Wand gespielt", gibt sich Head Coach Michael Lampert vor der fünften Begegnung selbstbewusst. "Am Dienstag wird aber die bessere Tagesverfassung den Ausschlag geben."
Ähnlich sehen es die Tiroler, die für Spiel vier nicht bereit waren und nach 26 Minuten bereits mit 0:4 zurücklagen. "Wir waren einfach zu schüchtern auf dem Eis", erklärt Kapitän Patrick Mössmer. "Das wird uns am Dienstag nicht mehr passieren."
Die "Haie" müssen in Feldkirch auf vier verletzte Stammkräfte verzichten, wollen aber doch den fehlenden Sieg für den zweiten Finaleinzug in Folge holen. "Ich habe ein gutes Gefühl", meint der HCI-Kapitän.
Eines wird es definitiv nicht geben: ein Penaltyschießen. Bei einem Unentschieden nach 60 Minuten wird so lange eine 20-minütige Verlängerung gespielt, bis ein Treffer fällt. Auch für die Fans in der Vorarlberghalle könnte es eine lange Nacht werden.
Der Livestream vom VEU-Heimspiel

Dienstag, 15.03.2011, 19:30 Uhr
EC hagn_leone Dornbirn – ATSE Graz
SR: Ulrich ERD, Wolfgang KRUTAK, Manuel NIKOLIC
Bisherige Saisonduelle: 4:3 n.P., 5:0, 4:3 n.P., 5:4, 4:1, 2:3 n.P., 1:4, 3:0
Stand im "Best of Five": 2:2
Am Samstag hatte der ATSE Graz die Chance, gleich im ersten Jahr nach dem Aufstieg in die Nationalliga in das Endspiel einzuziehen. Titelverteidiger Dornbirn zog mit einem 3:0-Erfolg in Graz-Liebenau aber noch einmal den Kopf aus der Schlinge und erzwang ein fünftes Spiel am Dienstag in der eigenen Messehalle.
"Es geht um Alles oder Nichts", weiß die Truppe von Head Coach Jamie Bartman. Zwei Ausfälle müssen die "Bulldogs" im Entscheidungsspiel auf jeden Fall verkraften. Bernhard Fechtig und Johannes Bischofberger bereiten sich mit dem österreichischen U18-Nationalteam auf die bevorstehende Weltmeisterschaft vor.
Im Lager der Steirer herrscht trotz des vergebenen ersten "Matchpucks" eine gute Stimmung. "Ein solches Spiel bestreiten zu dürfen, ist eine große Chance für uns, die wir nicht jedes Jahr haben werden", meint Kapitän Michael Mana. "Das muss jedem klar sein."
Dass der ATSE auswärts nicht zu unterschätzen ist, haben die Grazer in dieser Saison schon in Dornbirn bewiesen. Nur ein einziges Mal mussten sich die Steirer in der regulären Spielzeit geschlagen geben.
Am vergangenen Donnerstag setzte sich der ATSE überraschend klar mit 4:1 durch. "Wir dürfen auf keinen Fall den Start verschlafen", weiß Mana, dass sein Team am Samstag von Beginn weg konzentriert agieren muss.
Die Termine für das Finale (Best of Five):
19.03., 22.03., 26.03., 29.03. (falls notwendig), 02.04. (falls notwendig)