Sex and the City 2: Premiere in NYC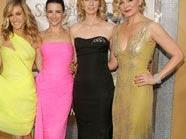 Die ganze Frauenwelt hat darauf gewartet: Endlich kommt "Sex and the City 2" in die Kinos. Bei der Premiere in New York strahlten die Hauptdarstellerinnen Sarah Jessica Parker, Kristin Davis, Cynthia Nixon und Kim Cattrall um die Wette.
Zwei Jahre musste die Frauenwelt darauf warten, endlich wieder mit ihren vier besten Freundinnen feiern zu dürfen. Man konnte den strahlenden Gesichtern der vier Darstellerinnen ansehen, wie viel Spaß ihnen ihre Rollen bereiten.
Im zitronengelben Valentino-Kleid grinste Sarah Jessica Parker in die Kameras. "Je länger ich lebe und atme, desto weniger habe ich mit Carrie gemeinsam", erklärte sie, "ich spiele sie aber so gerne, weil sie in allen Dingen so ganz anders ist als ich." Wie es wohl mit Carrie und Mr. Big weitergeht? Im Trailer zum Film verrät Carrie zumindest schon: "Es ist etwas passiert!"
Auch bei Charlotte tut sich was, denn sie hat alle Hände voll damit zu tun, ihre beiden Kids in Schach zu halten. Darstellerin Kristin Davis nimmt es locker, sie strahlte in einem pinken, schulterfreien Chiffon-Kleid von Desses for Decades.
Der kühle Kopf der SATC-Mädelstruppe ist die Anwältin Miranda. Darstellerin Cynthia Nixon entschied sich für eine schwarze, edle Robe von Carolina Herrera. Im Film eröffnet Miranda ein Restaurant und kommt wegen ihrer Ehe ins Grübeln.
Samantha, wie sie leibt und lebt – so kann man den Auftritt von Schauspielerin Kim Cattrall beschreiben. In einem Traum aus goldenen Pailletten von Naeem Khan präsentierte sie sich den Fotografen. Und während Samantha im Film die Wechseljahre quälen, ließ sich Kim auf der Premiere davon nichts anmerken und gab sich charmant und witzig wie immer.