Popmusik statt Klassik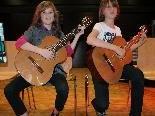 Möggers. Musikschule Leiblachtal präsentierte mit "Sing and Play" modernes Konzert und lockte rund zweihundert Gäste in die Turnhalle Möggers.
Dass Musikunterricht nicht nur klassische Musik von Mozart und Co hervorbringt, bewiesen rund dreißig Schülerinnen und Schüler der Musikschule Leiblachtal beim Konzert "Sing and Play" in der Turnhalle in Möggers. Mit Gitarre, E-Bass, Saxophon, Klavier, aber auch der eigenen Stimme präsentierten die Musikschüler aller Altersklassen moderne Stücke der Künstler Christina Aguilera, Kelly Clarkson oder Katy Perry. Auch Filmmusik aus Mama Mia und Blues Brother begeisterte die rund zweihundert Gäste des gut besuchten Konzertes.
Das "Sing and Play" ist jedes Jahr fixer Bestandteil der Musikschule Leiblachtal Konzerte. "Wir sprechen damit auch viele junge Leute an, die gerne immer wieder kommen", so Astrid Heil von der Musikschule Leiblachtal. Die Turnhalle Möggers ist dabei der perfekte Rahmen. "Der Klang in der Turnhalle ist etwas ganz besonderes, wir präsentieren das Konzert jedes Jahr hier", so Heil. Musikschullehrer Ivo Bonev führte durch den Abend und konnte mit seinen "Schützlingen" auch Bgm. Georg Bantel und Vize Bgm. Gregor Wucher begeistern.
Gemeindereporterin: Daniela Lais