MISS TUNING Kalender 2011: Heiße Kurven, coole Karren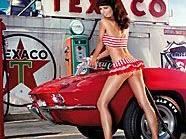 Hier treffen High Heels auf legendäre Autos und atemberaubende Schauplätze. Starfotograf Max Seam hat die amtierende Tuning-Königin Kristin Zippel für den MISS TUNING Kalender 2011 in erotischen Posen in Szene gesetzt.
Während der Aufnahmen zum MISS TUNING Kalender 2011, dem Hochglanzkalender der TUNING WORLD BODENSEE, in der Region der Great Lakes of North America legte Starfotograf Max Seam großen Wert auf die geschickte Kombination von Model, Fahrzeug und Szenerie. Ein Aufwand, der sich gelohnt hat: Das limitierte Sammlerstück (1.500 Exemplare) ist ein Männertraum zum Blättern und zeigt die amtierende Tuning-Königin Kristin Zippel in erotischen Posen. Der wurde heute im Rahmen der MY CAR-Pressekonferenz der Öffentlichkeit präsentiert.
MISS TUNING Kalender 2011: Hinter den Kulissen
13 Kalenderblätter gehören nur ihr: Kristin Zippel aus Mering in Bayern. Im Mai wurde sie beim Messe-Event TUNING WORLD BODENSEE zur MISS TUNING gewählt und durfte im Sommer zur Fotoproduktion in die USA reisen. "Ich freue mich wahnsinnig über meinen ersten eigenen Kalender", schwärmt die 27- Jährige. "Das Shooting in den Great Lakes of North America hat tierisch viel Spaß gemacht. Ich hatte ein tolles Team, durfte mit coolen Autos posieren und viele Sehenswürdigkeiten bestaunen." Auch Starfotograf Max Seam zeigte sich voller Begeisterung: "Die Chemie hat einfach gestimmt. Kristin hat eine unglaubliche Strahlkraft und ein prima Körpergefühl." 

An insgesamt fünf Produktionstagen bildeten neben der Automobil-Hochburg Detroit, eine Vielzahl an actiongeladenen und prestigeträchtigen US-Schauplätzen die Kulisse des neuen MISS TUNING Kalenders 2011. "Am besten hat mir das Luxusressort 'The Glendorn' gefallen. Die Atmosphäre dort war einfach fantastisch", meint die amtierende Botschafterin der Tuningszene. Auch die Autos kamen nicht zu kurz: Von Klassikern bis hin zu getunten Rennautos ist alles vertreten, was das Tuner-Herz begehrt. 
Ab sofort ist der MISS TUNING Kalender 2011 bei der Messe Friedrichshafen zum Preis von 25 Euro (inkl. Versand) erhältlich. Die Bestellformulare sind im Internet unter www.tuningworldbodensee.de hinterlegt.
(Messe Friedrichshafen/ TUNING WORLD BODENSEE; Redaktion)