Konzert der Bürgermusik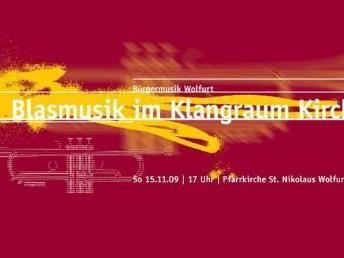 Bürgermusik Wolfurt unter neuem Kapellmeister Thomas Haas erfüllt den Klangraum Kirche mit Blasmusik am 15. 11. 09 um 17. 00 Uhr
Wolfurt. Seit September 2009 steht die Bürgermusik Wolfurt unter der neuen Leitung von Kapellmeister Thomas Haas. Er bereitet die MusikantInnen auf das Kichenkonzert am 15. 11. 09 um 17. 00 Uhr in der Pfarrkirche Wolfurt vor. Thomas Haas ist beruflich selbstständig in der Innenraumbegrünung. Musik ist jedoch seit früher Jugend einer seiner Wegbegleiter. Er wuchs in seinem Heimatverein in Roggenzell bei Wangen im Allgäu auf und besuchte zahlreiche Ausbilder- und Dirigentenlehrgänge. Ab 1977 dirigierte er die Jugendkapelle Roggenzell. 1986 wurde er Dirigent in seinem Heimatverein und leitete diesen bis 2005. Danach kehrte er bis Sommer 2009 in die Jugendarbeit zurück. In dieser Zeit besuchte Thomas Haas den "Lehrgang für Blasorchesterleitung" am Landeskonservatorium Vorarlberg bei Thomas Ludescher und schloss diesen im Frühjahr 2009 mit ausgezeichnetem Erfolg ab.
Unter dieses Thema hat Kapellmeister Thomas Haas auch sein erstes Kirchenkonzert mit der Bürgermusik Wolfurt gestellt. Aufbruch zu Gott, Aufbruch in das Leben, Aufbruch zu uns selbst. Komponisten aller Epochen haben diesen Glauben in ganz unterschiedlichen Werken und verschiedenen Stilrichtungen musikalisch zum Ausdruck gebracht. Begleiten Sie die Bürgermusik Wolfurt durch die Klangwelten verschiedener Jahrhunderte und erleben Sie doch ständig dabei das "Jetzt und Heute"! Kapellmeister Thomas Haas eröffnet sein erstes Konzert mit "The Awakening". Bert Appermon drückt darin den ewigen Kampf zwischen Licht und Schatten, als Teil unseres Lebens, musikalisch aus. Philip Sparke, einer der bedeutendsten Komponisten unserer Tage, instrumentierte einen Teil der Kantate 140 von Johann Sebastian Bach für Blasmusik im Stück "Wachet auf, ruft uns die Stimme". Mit der darauf folgenden Komposition "Fanfare und Lobgesang" beabsichtigt Paul Curnow die Lebenseinstellung des Hl. Franz von Assisi den Zuhörern näher zu bringen. Das Holzbläserquintett der Bürgermusik Wolfurt stellt sich mit "Amerikanischen Spirituals" zusammengestellt von Jerry Nowak vor.
Mit "Heal the world" von Michael Jackson schließt Kapellmeister Thomas Haas den musikalischen Kreis, der Sie durch verschiedene Epochen und Jahrhunderte führt.
Wir laden Sie ein, der Hektik unserer Zeit für eine Stunde zu entfliehen. Genießen Sie den besonderen Zauber der Blasmusik im Klangraum Kirche.