Kasabian goes Grunge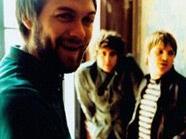 Haben sie auf "West Ryder Pauper Lunatic Asylum" in diesem Jahr noch mit ihrem typisch britischen Rocksound begeistert, wollen Kasabian mit ihrem nächsten Album eine ganz andere Richtung einschlagen.
Im kommenden Jahr bringen die britischen Rocker nämlich bereits ihr viertes Studiowerk auf den Markt. Sänger und Mastermind Tom Meighan erklärte gegenüber BBC6 Music, dass ihre musikalischen Ergüsse diesmal teilweise an die 90er Jahre Grunge-Bewegung erinnern: "It's nothing like what we've done on [ West Ryder ]; it's really old school grunge. There's a lot of Pink Floyd, Dark Side Of The Moon, piano-based songs at the minute…There's one that sounds like Nirvana, which is really grungy, a big riff.