Irland -  grüne Insel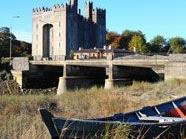 Mit Herburger Reisen auf den Spuren des Heiligen Patrick!
1. Tag: Sicher und bequem reisen wir über Basel – Beaune – Auxerre – Paris.
2. Tag: Wir verlassen Paris Richtung Rouen und kommen an die Nordküste Frankreichs. Hier haben wir kurz Gelegenheit die Normandie zu erkunden, bevor wir am Abend in Cherbourg an Bord der Fähre nach Irland gehen.
3. Tag: Gegen Mittag kommen wir in Rosslare an und starten mit unserem Reiseleiter die Rundreise durch Irland. Über die lebhafte Hafenstadt Wexford und New Ross kommen wir nach Waterford, die Stadt des irischen Kristalls. Bei Cork lohnt der Besuch des Blarney Castle mit seinem sagenumwobenen Blarney Stone und das Jameson Heritage Centre in Midleton.
4. Tag: Der ,,Ring of Kerry" im Südwesten Irlands gehört zu den schönsten Panoramastraßen Europas. Die Küstenstraße um die Halbinsel Iveragh hat viele Höhepunkte zu bieten. Lassen wir uns von den atemberaubenden Ausblicken auf den Atlantik faszinieren.
5. Tag: Nach dem irischen Frühstück, fahren wir Richtung Norden. Das Schloss Bunratty wurde im 15. Jh. errichtet und galt als eine der mächtigsten Burgen in der Region. Der Folk Park entstand viel später und zeigt das Leben der Iren im 19. Jh. Auf dem weiteren Weg nach Lisdoonvarna durchfahren wir das Karstgebiet des Burren, eine faszinierende Gesteinslandschaft. Mittendrin liegen die berühmten Cliffs of Moher und bieten einen atemberaubenden Blick auf den Atlantik.
6. Tag: Quer über die Insel führt die Fahrt nach Dublin. In der Mitte Irlands besuchen wir die Klosteranlage Clonmacnoise am Shannon River. Nachmittag erreichen wir die irische Hauptstadt Dublin (Stadtrundfahrt).
7. Tag: Wir genießen die wundervolle Landschaft der Wicklow Mountains. Der ,,Garten Irlands", wie die Region liebevoll genannt wird, wirkt oft wie eine Märchenlandschaft. Abfahrt der Fähre gegen 16 Uhr nach Cherbourg. Heimreise am nächsten Tag.
Termin: So. 21. bis So. 28.8.11
Preis: 899 Euro. Top-Busreiseschutz 36 Euro, EZ-Zuschlag (auch auf der Fähre, ev. div. Eintritte) 212 Euro.
Inkludierte Leistungen: Fahrt im Herburger Luxusbus, Fährpassagen Cherbourg – Rosslare – Cherbourg, Fährkabinen in 2 Bett – innen DU/WC, 2 x Frühstücksbüffet auf den Fährüberfahrten, 5 x Hotelübernachtung, Halbpension, Rundreiseleitung bis Dublin
Weitere Reiseinformationen finden Sie unter: www.herburger-reisen.at, Mail: zentrale@herburger-reisen.at