Erstes Country Festival in Meiningen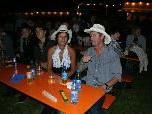 Meiningen wurde kurzfristig zum Country Mekka und den Gästen wurde ein super Abend geboten.
Wer am Samstag Abend den Sportplatz in Meiningen betrat, kam in eine andere Welt.
Von einem Lichtermeer, Country Klängen und einer Bühne voller Line-Dancer wurde der Gast empfangen.
Veranstalter war der Sportclub Meiningen und in dessen Namen begrüßte Christian Gasser die Gäste des Abends, die Countryband "BAXND" (Band X) aus der Schweiz, die Silver Valley Linde Dancers und Vorarlbergs erste Line Dance Gruppe, die Tumbleweed Line Dancers, die es seit 2000 im Ländle gibt.
Am frühen Abend konnten Interessierte einen Workshop mitmachen, um die Grundbegriffe des Line Dance zu erlernen. Als dann die Band aufspielte gab es für Profis und Laien kein Halten mehr. Die Bühne wurde gestürmt und das Gelernte gezeigt. Die Zuschauer auf jeden Fall waren begeistert von den Darbietungen der Tänzer.
"The Wonderer" oder "Down by the banks of the Ohio" waren dann für die Fans der Country Music die Aufforderung mit zu singen, zu tanzen, das fantastische Ambiente zu genießen und einfach einen tollen Abend zu haben, der sicher Wiederholung finden wird.