Entdecke New York neu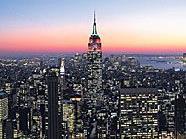 Neue Kunstmuseen, neue Parks, neue Hotels: Auch wer schon 1000 mal da war, kennt noch lang nicht alles.
Neues New York. "Ich war noch niemals in New York" können heute immer weniger Leute von sich sagen. Und doch kehren viele, die schon dort waren, wieder nach New York City zurück. Denn in der vielbesungenen Metropole gibt es ständig Neues zu entdecken. Auch wenn der Dollar zuletzt wieder an Fahrt gewann und USA-Urlaube teurer geworden sind. Beim Flug sparen, beim Hotel nicht zu viel sparen – und schon sind fünf Luxustage in New York das Beste, was Sie für Ihre Seele tun können.
Kunst entdecken. In den vergangenen Jahren konnten Kunstbeflissene mitverfolgen, wie neue "Projektspaces" und Museen neben alten Klassikern wie dem Guggenheim oder dem Museum of Modern Art (MoMa) ihren Platz gefunden haben. Der MoMa-Ableger P.S.1 auf Long Island (nur zwei Metro-Stationen vom Mutterhaus entfernt) ist in einer ehemaligen Mädchenschule untergebracht und zeigt hinter der Backsteinfassade Werke zeitgenössischer Künstler bemerkenswert unaufgeregt. Das Gebäude mit seinen vielen ehemaligen Klassenzimmern wird vom Heizkeller bis zum Dachgeschoss mit Video- und anderen Installationen bestückt.
Seit drei Jahren hat das New Museum auf der Bowery Street geöffnet, mitten im ehemaligen Elendsviertel auf der Lower East Side. Das 50-Millionen-Dollar-Gebäude sieht so aus, als hätte ein Kind Bauklötze unsauber aufeinander gestapelt. Drei Stockwerke sind mit Ausstellungsräumen belegt, ganz oben in der siebten Etage bietet der Skyroom unbezahlbare Blicke über Manhattan. Die ausgestellte Kunst ist frech und provokant.
So schnell wie die Kunstszene verändert sich New York als Metropole. Stadtviertel werden zu Trendvierteln – und ebenso schnell nicht mehr bezahlbar. Dem stetigen Wandel sind auch Parkanlagen unterworfen. Klar, die endlosen Spaziergänge im Central Park sind durch nichts zu ersetzen. Jedoch hat das Renaturierungsprojekt der alten Trasse der Bahnlinie "Highline" im Westen Manhattans international für großes Aufsehen gesorgt.
Erst seit Juni 2009 geöffnet, geht der erste Abschnitt der "Highline" heuer in den zweiten Sommer. Und für New York-Besucher ist der ungewöhnliche Park vor allem während des Sommers eine echte Wohltat. Über dem Autoverkehr werden Spaziergänger entlang der teils sichtbaren, ehemaligen Bahngleise, an Sträuchern, Blumenbeeten, Sitzbänken und Liegestühlen vorbeigeleitet. Die Stadt investierte 50 Millionen Dollar in das Projekt, das nun in Richtung Meatpacking District fortgeführt wird.
In die Viertel eintauchen
Das wollen viel Besucher: versuchen, im schnellen Takt New Yorks ein paar Tage mitzuleben. In die Cafés gehen, die die New Yorker besuchen (hier sei das französisch-marokkanische Café Gitane in Nolita hervorgehoben) – und in den gefragten Restaurants einen Tisch ergattern (zum Beispiel im "Balthazar" in Soho oder "Pastis" im Meatpacking District). Damit die Suche nach einem Tisch fürs Abendessen nicht zum Fiasko wird, bietet es sich an, übers Internet vielversprechende Restaurants vorzureservieren. Das geschieht je nach Gusto und Budget am einfachsten über die Reservierungsplattform Opentable.com, mit der sich übrigens Tische in zahlreichen US-Städten zielgenau buchen lassen. Für den Verdauungsspaziergang noch eine Idee: Wer durch die Sträßchen der Brooklyn Heights schlendert – um anschließend zum Sonnenuntergang über die Brooklyn-Bridge nach Manhattan zurückzukehren – wird mit einem unvergesslichen Blick auf die berühmteste Skyline der Welt belohnt.
NYC-Tourismus will 50 Millionen anlocken
Wachstum. In den ersten drei Monaten des Jahres 2010 kamen 10,6 Millionen Besucher nach New York, was einem Wachstum von elf Prozent gegenüber dem Vorjahreszeitraum entspricht. Die Hotelauslastung betrug im ersten Quartal 73,8 Prozent, 8,7 Prozent mehr als 2009. Bürgermeister Michael Bloomberg hat das Ziel ausgerufen, bis 2012 insgesamt 50 Mill. Touristen anzulocken.
35 Millionen Menschen besuchen jährlich den New Yorker Times Square. Damit ist der nach der Zeitung "New York Times" benannte Platz die beliebteste Touristenattraktion der Welt. 2009 waren insgesamt 45,6 Millionen Menschen in New York City zu Gast, 568.000 davon aus deutschsprachigen Ländern.
Terror-Einsatz: "Tony" für New Yorker Polizei
Ehren-Award. Wegen des "Dramas vom Times Square" erhält die New Yorker Polizei den Tony-Ehrenpreis. Für ihre jahrelangen guten "Dienste im Theaterdistrikt" würden zwei Kommissariate mit dem Preis für herausragende Theaterarbeit ausgezeichnet. New York war am 1. Mai nur knapp einem Terroranschlag entgangen: Die Polizei konnte den Sprengsatz rechtzeitig entschärfen.
Hoteltipp. Das richtige Hotel prägt einen Urlaub stärker, als man zugeben möchte. Das weiß vor allem derjenige, der schon mal im falschen Hotel abgestiegen ist. Wer sich seine Basis mitten in Manhattan schafft, ist schnell überall – und kann auch tagsüber Shoppingbags im Hotelzimmer abladen. Soho hat der Fifth Avenue längst den Titel "Shoppingmeile" abgelaufen – und verfügt mit dem "Crosby Street Hotel" über das beste Hotel der Welt. Jedenfalls sagt das Designpapst und Vielreisender Tyler Brûlé, der Schöpfer von hochgejubelten Stylemagazinen wie Wallpaper und Monocle. Und wer die Lobby des erst einige Monate alten Hotels betritt, ahnt, dass Brûlé recht behalten würde. Dank Cast-Iron-Architektur mit gusseisernen Fassaden und raumhohen Fenstern ist Soho ohnedies der ideale Ort für tolle Hotels. Für die Briten Tim und Kit Kemp – ihre Hotelgruppe Firmdale besitzt zahlreiche Hotels in London – ist das "Crosby Street Hotel" der Schritt über den großen Teich. Mit viel Liebe und bewundernswerter Stilsicherheit sind die 86 Hotelzimmer so schön eingerichtet, dass man nie mehr abreisen möchte, wären da nicht die stolzen New Yorker Nächtigungspreise. Für das exklusive Luxushotel muss man über 350 Euro pro Zimmer pro Nacht einkalkulieren. Dafür verfügt das Hotel über ein eigenes Kino – und die schicke "Crosby Bar".
Highlight: Wer ein Zimmer in den oberen Stockwerken ergattert, hat von einem kleinen Sitzpolster vor den raumhohen Fenstern einen gigantischen Blick über die Lower East Side (LES), die gerade so hip ist, wie es Soho vor ein paar Jahren war.
 Top of the Rock: Überblick behalten
Aussicht. Als 1986 die berühmte Bar "Rainbow-Room" (derzeit geschlossen) ausgeweitet wurde, stellte die Aussichtsplattform auf dem Rockefeller Center ihren Betrieb ein. 2005 wurde sie unter dem Namen "Top of the Rock" wiedereröffnet. Der Ausblick ist grandios.
Neues Museum für Zeitgenössisches
Frech. Das "New Museum" hat sein neues Haus in der Bowery zwar erst vor drei Jahren bezogen – das Museum gibt es aber schon seit 30 Jahren. Derzeit kuratiert Jeff Koons (war auch schon im Kunsthaus Bregenz) seine erste Ausstellung aus der Sammlung Dakis Joannou.
Shoppen in Soho: Prince und Greene
Boutiquen. Ja, Soho war schon mal hipper. Und mittlerweile hat fast jede große Luxusmarke einen Flagshipstore im Viertel – aber die Kopfsteinpflasterstraßen, wie die Greene-, Prince- oder Mercerstreet, versprühen ihren eigenen Charme. Kreditkarte nicht vergessen!
Und abends auf ein Konzert
Szene. Höhepunkt eines New-York-Besuchs kann ein Konzert einer angesagten Band sein. Und damit ist nicht eine Megashow im in die Jahre gekommenen Madison Square Garden gemeint: Je kleiner der Club, umso besser. Vor allem der "Bowery Ballroom" in der Lower Eastside oder die "Union Hall" in Brooklyn bieten auf ihren Internetseiten einen laufenden Überblick über anstehende Konzerte. Der größte Tickethändler ist www.ticketmaster.com. Eintrittskarten können im Vorfeld der Reise von zu Hause bestellt und oft als PDF-Datei ausgedruckt werden.
Am bequemsten sind Direktflüge mit der Swiss ab Zürich nach New York, JFK-Airport. Je nach Jahreszeit und Angebot ab 300 Euro zu haben.
Tipps: Gemütliches Schuhwerk
Zeitliche Differenz: -6 Stunden
Saison: Städtetrip, ganzjährig empfehlenswert.