Element of Crime live: VOL verlost Tickets!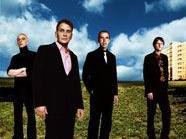 Am 07. Februar sind Element of Crime live im Feldkircher Montforthaus zu Gast. VORARLBERG ONLINE verlost Tickets, jetzt mitspielen und gewinnen!
ELEMENT OF CRIME
Montag, 7. Februar 2011
Montforthaus Feldkirch
Einlass: 19 Uhr | Beginn: 20 Uhr
Sie sind Deutschlands herausragende Band: Element of Crime haben nicht nur einige legendäre Songs veröffentlicht, sondern gleich albumweise deutsche Rockgeschichte geschrieben, so etwa mit "Try To Be Mensch" (1987), "Damals hinterm Mond" (1991), "Weißes Papier (1993)", "Romantik" (2001) und zuletzt mit "Immer da wo du bist bin ich nie" (2009).
Sie sind von der Romantik gebeutelte, kauzige Männer, die von Liebe singen und von gescheiterten Spargelköniginnen, von altem und neuem Schrott, der rettenden Kavallerie (die natürlich nicht mehr kommt) und der Blaumeise Yvonne, von Erdbeereis und Katzen und Pitbull-Terriern und sie tun das jeder auf ihren Instrumenten und einer sogar als Sänger und der Sound, den sie dabei kreieren, ist einzigartig rauh und einzigartig schön.
Jetzt kommen sie wieder auf Tournee und besuchen einige der Städte und Clubs und Hallen, in denen sie immer schon gerne spielten oder schon immer gerne mal spielen wollten, für die aber im Jahre 2010 die Zeit nicht reichte.
Als sicher gilt dabei, dass sie die meisten Songs ihrer letzten Platte spielen werden, schon deshalb, weil die Tournee nach ihr benannt ist. Aber sonst? Werden alte englischsprachige Knaller und Klassiker genauso dabei sein wie Filmsongs von "Robert Zimmermann wundert sich über die Liebe"?
Die Besetzung ist die alte neue, mit Sänger, Gitarrist und Trompeter Sven Regener, Jakob Illja als hyperelektrischem Gitarrengott, Richard Pappik für Schlagzeug, Cajon und Mundharmonika, The Hon David J Young am Bass – wenn jemals der Ausdruck "Fels" zutraf dann hier – und neu (seit erst einem Jahr) dabei: Geiger Christian Komorowski, der das Ganze um ein paar tolle Skills bereichtert.
Und wie immer bei Element of Crime darf man gespannt sein auf das Vorprogramm. Nachdem die Band seit über 15 Jahren noch unbekannte, aber großartige Bands bzw. Solokünstler mitnimmt wie z. B. Fink, Tomte, Ed Czupkai, Home of the Lame oder Florian Horwath, bringen sie uns diesmal Maike Rosa Vogel mit:
Maike Rosa Vogel ist Basis und Schlussstein des deutschen Folk, das neue deutsche Fräuleinwunder des Minnegesangs, Schwan und Lohengrin zugleich. Sie hat eine helle, reine Stimme und Lieder, die so klar sind wie Quellwasser. Live wird man sie barfuß und allein, mit Gitarre und Zöpfen bei Element of Crime im Vorprogramm sehen.
ELEMENT OF CRIME, am Montag, den 7. Februar 2011 im Montforthaus im Feldkirch. Beginn ist um 20 Uhr.
Ticketpreis im Vorverkauf:
EUR 29,50
Weitere Infos zur Band:
www.element-of-crime.de
Eine Veranstaltung von:
www.soundevent.at
Kartenvorverkauf:
RANKWEIL: Musikladen Concerts, Gewerbepark 2. Stock, 6830 Rankweil
FELDKIRCH: Musikladen, Johannitergasse 4, 6800 Feldkirch
BREGENZ: Kiosk im Bahnhof, Fritz-Mayer-Platz 1, 6900 Bregenz
LUSTENAU: Kirchplatz-Kiosk Felix, Kirchstr. 2, 6890 Lustenau
DORNBIRN: Kiosk Gmeiner, Schwefel 46 (neben Bäckerei Kloser, vis-à-vis McDonald's), 6850 Dornbirn
GÖTZIS: Skoda Montfort Garage Götzis, Dr. Alfons Heinzlestr. 115, 6840 Götzis
BÜRS: Skoda Montfort Garage Bürs, Quadrella 8, 6706 Bürs
BLUDESCH: RFI, Hauptstraße 28, 6719 Bludesch
Kartenversand / Kartenreservierungen sowie weitere Infos erhalten Sie direkt bei
Musikladen Concerts unter der Tel.Nr. +43-5522-41000 oder per E-Mail info@musikladen.at.