Ein Hauch von Hollywood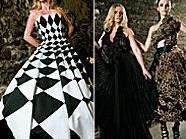 Mode-Ikone Irene Mayer landet ihren nächsten Coup. Nach den österreichischen Top-Labels Tiberius und Shakkei toppt ein absoluter Rising Star der internationalen Design-Szene ihre MO:DE Plattform: Emil Gampe.
Emil Gampe, international als "Austrian Valentino" gehandelt, wird mit seinem Couture-Label "EMILcouture" österreichexklusiv von Irene Mayer gefeatured. Der gebürtige Österreicher mit Wohnsitz L.A. und New York bringt einen Hauch von Hollywood-Flair und wird bei der MQ Vienna Fashionweek 2010 – erstmals in Österreich – einen Auszug seiner Kollektion präsentieren.
"Ich freue mich, nein, ich bin stolz, einen ganz Großen der internationalen Designszene an Board  begrüßen zu dürfen", begeistert sich Irene Mayer über ihren prominenten Zuwachs. "Emil Gampe ist einer jener Österreicher, der seine Karriere von Anfang an im Ausland angelegt hat und es innerhalb kürzester Zeit bis nach ganz oben geschafft hat. Umso schöner, dass es mir gelungen ist, ihn wieder "heimzuholen".  Und – obwohl wir das angesichts unserer herausragenden heimischen Creativ-Talente nicht nötig haben – Emil bringt einen Hauch von Glitter, Glamour und Glanz aus Hollywood in unser Portfolio."
Emil Gampe genießt nicht umsonst den Ruf eines "Hollywood-Designers". Er gilt als Meister der "Nouveaux Avantgarde" und hat sich mit seinem Eigenlabel EMILcouture auf Abendmode und Cocktailbekleidung spezialisiert. Seine mondänen, gewagten und kühn-eleganten Entwürfe sorgen nicht nur in den beliebtesten US-Shows regelmäßig für Furore sondern sind seit längerem auch erste Wahl in den Garderobekästen der Hollywood-Schönen. Emil's Talent, mit seinen Entwürfen ein Millionenpublikum fesseln zu können beweist sich auch in seinem jüngsten Erfolg:Bei den Emmy Awards trug der nominierte US-TV-Serienstar Kristen Wiig kuerzlich ein Abendkleid von EMILcouture.
Einen Auszug seiner atemberaubenden Kollektion zeigt Emil Gampe erstmals in Österreich bei der MQ Vienna Fashionweek im Herbst 2010. Dabei wird EMILcouture von der Design- und Modeplattform MO:DE by Irene Mayer gehostet.

Über EMILcouture/ Emil Gampe (http://www.emilcouture.com/)

Emil Gampe, 41, hat schon mit fünf Jahren sein erstes Kleidungsstück genäht. Damals haben seine Großmütter, beide leidenschaftliche Schneiderinnen, als Lehrerinnen fungiert. Als Jugendlicher entwarf Gampe bereits eine Vielzahl an Designs, von Straßenkleidung über Abendkleider bis zu Tanzkleidern für Turniertänzer.
Um eine gute Basis für seine Karriere zu bilden erwarb der gebürtige Linzer zunächst den Titel eines Textilingenieurs in Wien und rundete später seine Ausbildung für Modedesign in London an den anerkannten Designerschmieden Saint Martins und London College of Fashion ab.
Nach einigen erfolgreichen Jahren als Designmanager für ein weltweit führendes Londoner Couturehaus zog es Emil Gampe nach Amerika. Im selben Zeitraum wurde auch das Eigenlabel "EMILcouture" geboren. Bereits die erste Kollektion Emil's war geprägt von seinem starken Hang zur Avant-Garde und zeigte die unerschöpfliche Kreativität und Vielseitigkeit des Designers.
In die Modemetropole New York war Emil als Konsulent für verschiedene Designermarken tätig und baute gleichzeitig sein eigenes Coutureclientel aus. Seine Stücke wurden unter anderem bei Kleinfelds New York, dem größten Couturehaus der USA in den Auslagen gezeigt und verkauften sich leicht und schnell. Als Head Designer von Kai Milla, Frau von Stevie Wonder, hat er zur selben Zeit deren gesamtes Design- und Produktionsteam geleitet, sowie Modeschauen in New York produziert und große TV-Auftritte organisiert.
Die Suche nach der nächsten Herausforderung führte Emil zuletzt nachLos Angeles, dem Zentrum der Unterhaltungsindustrie und Mekka der roten Teppiche. Kurz nach seiner Ankunft wurde er unter hunderten Designern als Teilnehmer für eine neue Reality-TV-Show ausgewählt und nach einem harten Ausscheidungskampf als gewinnender Experte dieses Designwettbewerbes ermittelt. Die Siegerkollektion der unter dem Titel "Launch My Line" an ein Millionenpublikum ausgestrahlten Sendung wurde erfolgreich in ganz Amerika verkauft.
Zurzeit arbeitet Emil verstärkt am Ausbau seiner eigenen Abendmodenmarke EMILcouture. Zuletzt wurden seine Abendkleider bei der größten US-Fernsehshow "Dancing with the Stars", den Filmfestspielen in Cannes und bei den Emmy Awards getragen.
Eine "EMIL" Ready-To-Wear Kollektion mit internationalem Vertrieb ist als nächster Schritt im Gespräch.