Der Robbie Williams Tag auf ANTENNE VORARLBERG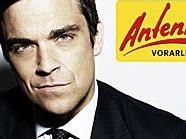 Nach drei Jahren Pause ist er wieder zurück! Diesen Freitag erscheint das neue Album von Robbie Williams, "Reality Killed the Video Star". Passend zum Comeback des Ausnahmekünstlers spielt Vorarlbergs bester Musikmix diesen Freitag, 6. November, den ganzen Tag die besten Titel des Briten und verschenkt die ersten Exemplare des neuen Albums.
Mehr als eine Dekade lang hat die Solokarriere von Robbie Williams einem unaufhaltsamen Tornado geglichen. Das Ausmaß seiner Triumphe lässt sich bereits an den Statistiken ablesen: mehr als 55 Millionen verkaufte Alben (vonLife Thru a Lens, 1997; I've Been Expecting You, 1998; Sing When You're Winning, 2000; Swing When You're Winning, 2001; Escapology, 2002; Live At Knebworth, 2003; Greatest Hits, 2004; Intensive Care, 2005 bis Rudebox, 2006), mehr British Music Awards als irgendein anderer Künstler in der Geschichte (15), die drei unvergesslichen Konzertabende in Knebworth im Jahr 2003 vor 375.000 Fans; die meisten Ticketverkäufe innerhalb eines Tages (1,6 Millionen für seine Close Encounters Tournee 2006)… Die Liste ließe sich beliebig fortsetzen, entscheidender ist, dass seine Wirkung – dank seiner Songs, seines Gesangs, seiner Performance und Persönlichkeit – weit über reine Zahlenspielerei hinausgeht.
Den größten Teil von Reality Killed The Video Star hat Robbie in seinem Heimstudio in Los Angeles geschrieben und in London aufgenommen. Für die Songs hat er auf vielfältige Art und Weise mit anderen Songwritern zusammengearbeitet, darunter Kelvin Andrews & Danny Spencer, Brandon Christy, Richard Scott und Scott Ralph, Chaz Jankel, Guy Chambers und Fil Eisler. Produziert wurde das Album von dem legendären Trevor Horn. "Er hat dem Album etwas hinzugefügt, was ich auf den anderen Alben nicht hatte – sein Genie", so Robbie. "Ich denke, es klingt einfach fett – Stück für Stück für Stück."
Am 6. November 2009, wenn sein erstes Album seit drei Jahren erscheint, kann man sich vom Resultat all dessen überzeugen.
Der ROBBIE WILLIAMS Tag auf ANTENNE VORARLBERG, diesen Freitag ab 6 Uhr! Weitere Informationen unter www.antenne.vol.at.