Das sind die Gewinner von "supermodel - the next generation"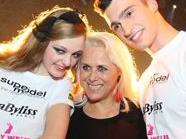 Die Sieger von Andrea Weidlers Model-Contest "supermodel-the next generation" sind gekürt. Mario und Annica erhielten den heißbegehrten Vertrag mit wiener models.
Eine Jury, u.a. mit Gery Keszler, Norbert Blecha sowie sechs Head-Bookern von internationalen Model-Agenturen, trafen mit wiener models-Dojen Andrea Weidler die Auswahl.
Die zehn besten Mädchen und Burschen aus den vorangegangenen Castings legten sich auf der Bühne des Wiener "Elysium" ins Zeug, um den Vertrag bei wiener models zu ergattern. Mit dabei das who-is-who der Modelagenturszene. Das große Finale von supermodel-the next generation war ein Stelldichein von Scouts und Bookern sowie österreichischen Mode-Experten.
And the winner is…
Nach zwei Durchläufen, einmal in einem sexy Tally Weijl-Outfit und einmal klassisch in Jeans und T-Shirt standen die beiden Gewinner fest. Die 17-jährige Annica hatte in den Augen der Jury die besten Voraussetzungen auf den internationalen Catwalks zu reüssieren. Ihr männliches Pendant, der 19jährige Mario sieht ebenfalls einer internationalen Karriere entgegen.
Die Gewinner erhielten neben dem Modelvertrag bei wiener models ein Beauty-Paket von Babyliss, einen Reisegutschein von Magic Life, ein Sony Ericsson Xperia X8-Handy sowie ein Schmuckstück aus dem Hause Nickl. Tally Weijl schenkte außerdem allen Teilnehmern das sexy Catwalk-Outfit.