Chevrolet "Spark of Fashion"-Night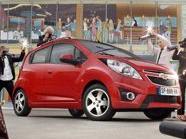 Studierende verschiedener Kunstrichtungen bekamen die Möglichkeit, Projekte und Vorschläge in den Disziplinen Musik, Mode, Video, Fotografie und Visual Arts einzureichen. Im Mittelpunkt der Aufmerksamkeit stand der neue Kleinwagen Spark von Chevrolet.
Bei der am vergangenen Wochenende durchgeführten Chevrolet "Spark of Fashion"-Night in Berlin standen zwei junge Studentinnen der Universität für Angewandte Kunst in Wien im Mittelpunkt.
Zwei Österreicherinnen unter den Top-Platzierten
Karina Milone wurde als europäische Gesamtzweite in der Disziplin Musik des heurigen Chevrolet Kunstwettbewerbes "Young?Creative?Chevrolet!" geehrt. Yuko Ishikawa durfte sich ebenfalls über einen ausgezeichneten zweiten Platz in der Disziplin Video freuen.
Mit diesen Auszeichnungen konnten die österreichischen Teilnehmerinnen an die Erfolge der letzten beiden Jahre anschließen, wo Studentinnen und Studenten österreichischer Universitäten ebenfalls Top-Platzierungen erreicht hatten.
Im Mittelpunkt der Aufmerksamkeit auch der neue Spark

Mischa Woeste, Designerin beim Berliner Modelabel Smeilinener, nutzte den brandneuen Kleinwagens Spark für die Präsentation ihres gewagten Designs. "Der Spark ist wie ein Top-Model – er hat das Aussehen und das nötige Selbstbewusstsein, um freches Design zu tragen", so Mischa Woeste.
Fahrer und Beifahrer erwartet ein kokonähnlicher Innenraum. Ein Meer aus orangefarbenem Denim hüllt den Raum buchstäblich ein.