CD-Release Show von THE SORROW im Spielboden Dornbirn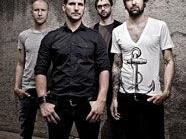 Das Warten hat bald ein Ende. In weniger als zwei Wochen, am 28. Oktober 2010 (einen Tag vor dem Release des dritten Albums), präsentiert Österreichs erfolgreichste Metalband – THE SORROW – ihr neues, selbstbetiteltes Werk.
"Was nicht dramatisch klingt, kommt nicht auf dieses Album" – mit dieser Vorstellung vor Augen haben sich THE SORROW im Mai diesen Jahres erneut mit Produzent Toni Meloni (Caliban, Die Toten Hosen) an die Arbeit in den Principal Studios bei Münster gemacht. Das Ergebnis: Die bisher überzeugendsten Songs überhaupt. Das neue Album kommt ungewöhnlich und mutig daher und verbreitet vom ersten bis zum letzten Ton eine musikalische Atmosphäre, die in der Metalwelt ihresgleichen sucht.
 
Andi, Dominik, Mätze und Tobi haben sich einmal mehr neu definiert und sind sich dabei gleichzeitig treu geblieben. Die klassischen Rezepte haben einem unbändigen Willen, neues Terrain zu beschreiten, Platz gemacht. Dabei sind 13 einzigartige Songs entstanden, die alles in sich vereinen, was Metal großartig macht.
Mit "Blessings from a Blackened Sky" hat die junge Metalband aus Vorarlberg im Herbst 2007 die Metalwelt auf den Kopf gestellt. Zwischen typischem Metalcore und Melodic Death angesiedelt, überzeugte das Debütalbum von The Sorrow mit messerscharfen Riffs, ausgefeilten Arrangements und großen Melodien. Das EMP Magazin hat damals bereits einen guten Riecher bewiesen: "THE SORROW gehört definitiv die Zukunft!"
 
Im Februar 2009 erschien mit "Origin of the Storm" das zweite Studioalbum, mit dem die Band ihren modernen Metal auf gewohnt brachiale und enorm frische Art perfektioniert hat. Internationale Bühnen wurden rasch erobert, zahlreiche Festivals und eine Tour mit Sepultura gespielt, Awards und die Herzen der Fans gewonnen. Und in Kürze – ab dem 29. Oktober – wird der dritte Geniestreich von The Sorrow in den Läden stehen.
 
Mit dem Konzert im Spielboden setzen die vier Jungs den Startschuss einer ausgedehnten Tour, die sie zunächst einmal in zwölf deutsche und fünf österreichische Städte bringt.
Der CD-Release wird am 28. Oktober mit DARK REFLEXIONS und EL CAMINO CAR CRASH gefeiert. Mehr Informationen zu THE SORROW (Musik, Videos, Fotos und vieles mehr) sind auf www.thesorrow.net zu finden.
Tickets sind bei allen Raiffeisenbanken (Ermäßigung für Club-Mitglieder), beim Musikladen in Bregenz (Kiosk am Bahnhof) und Feldkirch unter 05522/41000, bei Dornbirn Tourismus, im Lindaupark/D (Infotheke), Bro Records St. Gallen/CH, Messepark Dornbirn/ Mediamarkt an der Information, oeticket.com und kartenhaus.de erhältlich.
THE SORROW CD-Release
Concert mit DARK REFLEXIONS & EL CAMINO CAR CRASH | Spielboden Dornbirn
Donnerstag, 28. Oktober 2010, Einlass 20 Uhr, Beginn 21 Uhr