Back to the Beginning: Halo Reach Xbox 360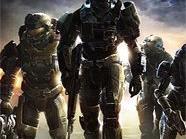 Mit dem Release der Xbox 1 erblickte auch eine Spielereihe das Licht dieser Welt, die mit dem Vorurteil, Egoshooter könne man nur auf dem PC mit Maus und Tastatur richtig steuern, gehörig aufräumte. Der letzte Halo-Teil von den Erschaffern des Halo-Universums brennt das größte Halo-Feuerwerk seit Release des ersten Teils ab. Und führt zurück, zum Anfang.
Endlich ist es soweit – und gleichzeitig ist es ein Release eines Spiels, das Anlass zur Trauer gibt. Mit dem Untertitel "Reach" erscheint der vorerst letzte und auf jeden Fall letzte Halo-Titel der Erschaffer der Halo-Serie, Bungie. Und es ist, soviel als Vorab-Fazit vorausgeschickt, zumindest für meinen Geschmack das beste Halo aller Zeiten.
Im Zentrum des Geschehens: Das direkte Prequel zu Teil 1, der auf dem gleichnamigen planetoiden Ring namens Halo spielt. Die Vorgeschichte zu dem, was Fans vor über 8 Jahren erstmals auf der Xbox erleben durften. In der Rolle eines namenlosen Spartan – einer Eliteeinheit der Menschen, geht es darum, zu verhindern, dass die Allianz der Covenant über die Menschheit die Oberhand gewinnt. Halo: Reach ist aber kein Singleplayer-Shooter der üblichen Sorte – als Teil eines mehrköpfigen Truppe der Eliteeinheit "Noble-Team" geht es zumeist an der Seite schlagkräftiger und durchaus klug agierender KI-Soldaten ins Gefecht.
Während mich die Sequels zu Teil 1 auf der Xbox mehr oder weniger gut unterhalten haben, das Strategiespiel zur Serie OK, aber nicht überragend war, und bei ODST der Funke bei mir nicht so recht überspringen wollte, bin ich von der brachialen wohlinszenierten Action eines Halo: Reach schlichtweg hingerissen. Bisher, Technik hin, Grafik her, ließ ich nichts über mein heißgeliebtes Ur-Halo kommen. Aber Reach ist das Ur-Halo, mit besserer Technik und überragenderer Inszenierung. Somit das beste Halo aller Zeiten. Punkt.
Back to the Roots: Wie in der guten alten Zeit verfügt der namenlose Spartan – auf Wunsch männlich oder weiblich, was aber außer der unterschiedlichen Figur im Kampfanzug keine Unterschiede macht – über einen wiederaufladbaren Schutzschild. Erst wenn dieser runtergeballert ist, nimmt der Spartan Schaden. Dasselbe Prinzip gilt aber auch bei den stärkeren Einheiten der Allianz, die auf den höheren Schwierigkeitsgraden nervig klug agieren. Ist der Schild beim Covenant Elite erst einmal unten, hechtet er in Deckung, bis er wieder aufgeladen ist. Taktisches Vorgehen ist Pflicht, will man nicht minutenlang auf einem Gegner herumharken müssen. Übrigens: Auf der Taste, auf der die Auslösung des Sprints liegt, können nun auch andere Fähigkeiten eingewechselt werden, zum Beispiel Jetpacks oder Spezialschilde. Diese Fähigkeiten laden im launigen Multiplayer zum Experimentieren ein und sind an gewissen Stellen der Kampagne notwendig.
Nebst klassischen Sturmeinsätzen geht es auch in Reach darum, Geschütze zu besetzen, allerlei Fahr- und Fluggerät zu bedienen (Teile der Kampagne spielen fast ausschließlich in solchen), aufgewertet durch vollkommen neuartige Einsätze im Weltraum. Ich wage sogar zu behaupten, dass uns in der Zukunft noch Weltraum-Ableger der Spieleserie erwarten könnten, programmiert von einem anderen Studio. Wer an der Seite von menschlichen Mitspielern unterwegs sein will, lädt einfach einen Kollegen online oder per Splitscreen an einem TV ein. Aber wie eingangs erwähnt, leisten die KI-Kollegen auch beachtliches. Dank furios inszenierter Zwischensequenzen, bei dem auch der Ton unter den Mitgliedern zuweilen recht rau daherkommt, kommt sogar so etwas wie ein Gefühl der Bindung zu den Kollegen auf.
Die Kampagne ist für Kenner der Serie zwar etwas knapp ausgefallen, überzeugt aber in seiner kurzen Dauer durch viel Inhalt und eine wuchtige Präsentation, die manchen Hollywood-Streifen fehlt. Aber wie für Fans der gepflegten Online-Massenschlacht bekannt und beliebt, weiß insbesondere auch hier der Multiplayer-Part zu überzeugen. Mit den zwei neuen Modi "Invasion" und "Arena" ergänzt Bungie das ohnehin dicke Paket an Multiplayermodi großzügig.
Von der technischen Seite her merkt man leider, dass die 360 langsam an ihre Grenzen stößt. Nervig für meinen Geschmack sind Slowdowns und Ruckler wahrzunehmen, sogar und vollkommen unverständlich in den Ingame-Rendervideos. Dabei hat Reach einen stimmigen Gesamtlook, mit nicht begehbaren aber stimmigen Hintergründen, aber die Texturen der Umgebung lassen doch recht oft zu wünschen übrig. Die Waffenmodelle und NPCs sind hingegen schön modelliert. Eine atmosphärische Aufwertung erfährt der Titel insbesondere durch sehr überzeugende Wetter-, Explosions- und Feuereffekte.
Bei Reach kriegen, eine flotte Surround-Anlage vorausgesetzt, auch die Nachbarn ordentlich eins auf die Ohren: Der Sound, untermalt von hollywoodreifen Soundtracks, kracht wuchtig ins Ohr und zieht ins Geschehen. Die deutsche Synchro ist im großen und ganzen gelungen, auch wenn Kenner eine englische Tonspur vorziehen – die klingt nämlich einfach einen Ticken "militärischer". Einige Zwischensequenzen und Abschnitte der Story, insbesondere gegen Ende hin, triefen vor Pathos – ich steh aber auf so was.
Übrigens: Es lohnt, den ergreifenden Abspann bis zum Ende zu genießen – wie im Kino wartet hier auf Kenner noch eine kleine Überraschung. 
Soviel vorweg: Bungie hat sich mit Reach ihr persönliches Denkmal gesetzt. Ich habe bis auf wenige Ausnahmen jeden Halo-Titel von Anfang bis Ende genossen. Aber bisher war nichts so gut wie der verhältnismäßig einfach gemachte erste Teil auf der guten alten Xbox. Mit Reach schafft es Bungie nicht nur, mit einer filmreifen Inszenierung den Storyplot bis zum Anfang der ersten Halo zu spannen, sondern auch noch einige Neuheiten einzubauen, die richtig Spaß machen. Multiplayerfans sei gesagt: Besonders Online spielt Reach noch viel mehr seine Stärken aus. Summa summarum: Viel Geballer, Pathos, grandiose Dialoge, gute KI, dicke Fahrzeuge unterm Hintern und ein kleiner Ausflug in den Weltraum. – Für mich das beste Halo aller Zeiten. Danke Bungie!