Wildstyle & Tattoo Messe in Hohenems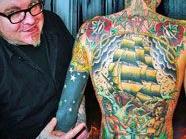 Dieses Wochenende, am 20. und 21. November ist es endlich soweit! Die Wildstyle & Tattoo Messe – eine der erfolgreichsten und spektakulärsten Tattoo-Messen Europas – macht in Hohenems Stopp.
An zwei Tagen haben Star-Tätowiereraus Asien, Neuseeland, Amerika und Europa ihre Tätowiermaschinen bereit, und daneben erwartet die Besucher ein sensationelles Nonstop Showprogramm ("Modern Primitives – Freakshow", "Wildstyle – Custom Bikes", "Circus of Rock – The Show", "Virtual Museum of Body Cults", und viele andere Bühnenkünstler und Attraktionen) sowie nahezu alles, was ein wildes Herz begehrt!
Zu Gast sind Star-Tätowierer wie beispielsweise Tattoo Master Hori Tsuna und Horimasa (Japan, traditionell japanischen Stil), Hougen (Japan, DER Spezialist für japanische Motive, die mit der Maschine gestochen werden) und Brent McCown (Neuseeland, ebenfalls traditioneller Stil). Natürlich wird es sich auch Lucky Diamond Rich (Australien, worlds most tattooed person) nicht nehmen lassen, einige Glückliche höchst persönlich zu tätowieren.
Weiters haben Vatea (Tahiti, polynesian tribal style), Chris Danley (USA), Gallo (Italien, Tattoos to the Max) und die local heroes vom Tattoo-Studio "Tattoo Tribe" aus Göfis ihren Besuch angekündigt.
Des weiteren werden Aussteller mit extravaganter Mode, Biker- und Clubwear, Schuhe, Schmuck, Accessoires, Dessous, Headshops, Indian Style, Skater- und Funsports, Custombikes und Zubehör, Airbrush und vieles mehr im Event.Center Hohenems vertreten sein.
Jeder Besucher kann außerdem gratis am Messegewinnspiel teilnehmen. Als Hauptpreis winkt ein Custom Motorrad im Wert von € 30.000,-!