Transmediale Kunst im Palais Thurn und Taxis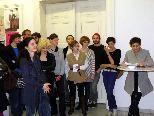 Bregenz. Unter dem Titel "Blossoms of a Multitude" wird derzeit im Künstlerhaus Palais Thurn und Taxis Bregenz bis 25. April im Keller- und Dachgeschoss eine Ausstellung junger studierender Künstler gezeigt.
"Blossoms of a Multitude" ist eine Ausstellung von 11 jungen KünstlerInnen, die an der Universität für angewandte Kunst, Wien im Departement für Transmediale Kunst bei Brigitte Kowanz studieren. Präsentiert werden Installationen, Skulpturen, Performances, Videos und Fotoarbeiten.
So individuell und vielfältig in der Wahl der Fragestellungen, Themen und Medien die Arbeiten auch sind, verbindet sie doch das gemeinsame Interesse an Handlungs- und Kommunikationsaspekten. Ein weiteres zentrales Thema für die KünstlerInnen sind Interferenzen und Interaktionen von Körper-, Raum- und Zeitkonzeptionen.