"THRILLER - LIVE" kommt im Oktober nach Bregenz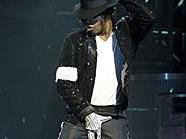 Bregenz - Der Mythos Michael Jackson lebt. Die Musik- und Tanz-Show "Thriller - Live" bringt die über 40 Jahre andauernde Karriere des King of POP auf die Bühne. Am 27. und 28. Oktober hat die Original-Show aus London Österreichpremiere im Festspielhaus Bregenz. Der Vorverkauf hat begonnen.
"Thriller – Live" feiert das Phänomen Michael Jackson. Fans können seine größten Hits und seinen unverwechselbaren Tanzstil live auf der Bühne erleben. Angefangen bei den ersten Erfolgen mit den "Jackson 5″ über Hits wie "Bad" bis zu den Songs des weltweit bestverkauften Albums aller Zeiten "Thriller", lässt die Show Jacksons Karriere Revue passieren.
Musiker, Sänger und Tänzer setzen die Choreografien des preisgekrönten Regisseurs Gary Lloyd auf der Bühne um. Multimediaeffekte unterstützen die spektakuläre Show. Auch der Original-Choreograf des mehrfach ausgezeichneten Videos zu "Dangerous" und fünffacher Gewinner des MTV Video Music Awards, LaVelle Smith Jr, wirkt bei der Produktion mit.
Tickets für "Thriller – Live" am 27. und 28. Oktober, jeweils 20 Uhr, im Festspielhaus Bregenz sind ab 33,20 Euro erhältlich über die Ticket-Hotline unter Telefon 0043/5574/4080, im Internet unter http://www.bb-promotion.com/ und an allen bekannten Vorverkaufsstellen.
Von Jackson persönlich inspiriert
"Thriller – Live" läuft seit Januar 2009 mit großem Erfolg am Lyric Theatre im Londoner West End. Bereits 2006 fand die umjubelte Premiere am Londoner Dominion Theatre statt. Drei Tourneen durch ganz Großbritannien folgten. Nun ist die weltweit gefragte Musik- und Tanz-Show nach mehrmonatigen Vorbereitungen und in enger Zusammenarbeit mit dem Londoner Produzententeam auch in Frankreich, Deutschland, Österreich, Italien und der Schweiz zu erleben. Dem langfristig geplanten Auftakt am 21. Juli am Deutschen Theater München schließt sich nun eine ausgedehnte Tournee auf dem europäischen Festland mit einem zweitägigen Gastspiel in Bregenz an.
Schöpfer, Executive Director und Co-Producer von "Thriller – Live" ist Adrian Grant. Er wurde von Michael Jackson persönlich zu dieser Show inspiriert: Der "King of Pop" hatte 2001 die von Grant produzierte zehnjährige Jubiläumsshow der "Annual Michael Jackson Celebration" im Londoner Hammersmith Apollo besucht und als "beautiful and incredible" bezeichnet.