The Tast of Discovery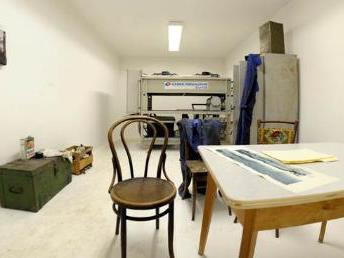 Dornbirn. Mit der Ausstellung "The Taste of Discovery" begibt sich der Mathias Kessler auf die Suche nach Authentizität von Naturerlebnissen.
In der eigens für den Kunstraum Dornbirn entstandenen Arbeit thematisiert der Vorarlberger Künstler, der in New York lebt und arbeitet, die Extrem-erfahrung einer Antarktisexpedition. Anlässlich der Vernissage konnten sich Christoph Greussing und Susanne Hagspiel (Dornbirner Sparkasse), Bernhard Winsauer (F.M. Hämmerle Immobilien), die Stadträtinnen Andrea Kaufmann und Marie-Louise Hinterauer, Fotokünstlerin Christine Kees sowie die Galeristen Heike Strelow und Herbert Alber, die Luft des überhitzten und nach Motoröl stinkenden Raums erleben. Mitten in die Realität eines Maschinen-Mannschaftsraums versetzt wurden auch Günter Polanec, Elisabeth Petrasch (Mercedes Schneider), Paulo Bianchi und Dieter Buchart (Kurator), Modelady Uli Zumtobel sowie die Künstlerin Maria Baumschlager. Karten mit Expeditionsrouten, die vom Künstler mit einem eigens entwickelten "Expeditionsparfum" besprüht wurden, machen diese absonderliche Spannung besonders deutlich. Die Ausstellung dauert bis 8. November.
Jahngasse 9, 6850, Austria