Szene Open Air: Genau so hört sich Spaß an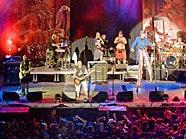 Lustenau - Bei 30 Grad im Schatten badeten die Open-Air-Besucher im Alten Rhein und lauschten gleichzeitig Alternativ und Punk Rock von Bands wie "Mono" und "Nikitaman". Es war nur die Ruhe vor dem Sturm.
Am Abend zeigten "The Sorrow", warum Metalfans in ganz Europa auf die Vorarlberger Death-Metal-Band schwören. Die vier Burschen nutzten das Exklusivkonzert, um ihre neueste Platte "Origin of the Storm" vorzustellen. "Wo sind die Lustenauer!", rufen sie ihren Fans zu – davon gab es jede Menge.
Die Fans ließen sich mitreißen von den harten Riffs und schüttelten ihre langen Mähnen. "Die Leute sind gut angeheizt", schwärmt Philipp aus Bregenz. Das war ja wohl Pflichtprogramm, standen doch Ska-P als Hauptact schon in den Startlöchern.