Mit dem Tretboot einmal um den See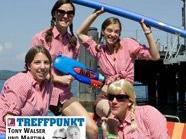 Bregenz - Mitarbeiter(innen) der Festspiele trafen sich im vierten Jahr zu Tretbootwettkampf.
Statt eines Spiels am Sees, gab es am Dienstagnachmittag ein Spiel "im See" wie Festspiel-Vizepräsident Wilhelm Muzyczyn in seiner Eingangsansprache festhielt. 18 Teams aus unterschiedlichen Bereichen der Bregenzer Festspiele versuchten sich im Tretbootfahren in einer kleinen Runde um den See zu überlisten. Die Mitarbeiter fiebern dem gro­ßen Finale der Bregenzer Festspiele entgegen. AIDA-Darstellerin Indra Thomas gab den Startschuss. Jeweils zwei Boote traten gegeneinander an. An Bord waren Mannschaften wie "Silvana and her slaves" (Dominik Kolb, Lukas Tisik, Lukas Döner und Silvana Achberger) oder das Team der Solisten und Tänzer "United Colours of Benetton (Andrew Gangestad, Kevin Short, Ruben Wiethüchter und Andrew Hill). Auch Kommunikationschef Axel Renner gab sich die Ehre. Er trat mit seinen Kollegen Barbara Hingsauer, Babette Karner und Brad Garvin im Team "Pressetreter" an.