Irish Night mit "The Jamesons"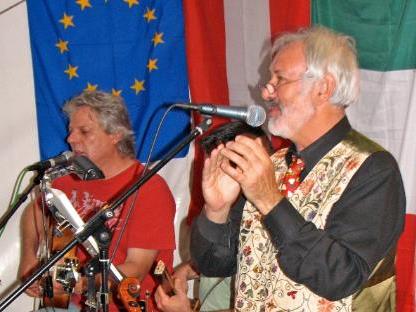 Lustenau. Musikalische Highlights in gemütlicher Atmosphäre können Msikinteressierte jeden Samstag ab 20.30 Uhr bei freiem Eintritt in der K&K-Bar in der Rheinstraße genießen.
 Zu Saisonbeginn gibt es am Samstag, den 19. September, eine "Irish Night" vom Feinsten: Irish Pub Songs, Jigs, Reels & Ballads – die richtige Musik zu Guinness, Murphy's und Whiskey, kraftvoll gespielt von "The Jamesons". Seit 15 Jahren spielen der irischstämmige Fiddler und Sänger Malcolm "Fiddle" James und der Lustenauer Gitarrist und Sänger Wolfgang Verocai nunmehr erfolgreich zusammen. Ihr Repertoire besteht aus einer mitreißenden Mischung traditioneller und moderner Musik der grünen Insel. Ein erlebnisreicher Abend mit bester irischer Pubstimmung ist garantiert. Aufgrund der beschränkten Platzzahl ist eine Reservierungen unter Tel. 05577 62288 erwünscht. Am 26. September stehen Acoustic Covers mit "Chemistry" auf dem Programm. Songs aus Sandra Mossmanns rauchiger Kehle stehen in musikalischem Einklang mit Markus Holzmaiers Meistergitarre.