the GREENHORNS - musikalische Weihnachtsfeier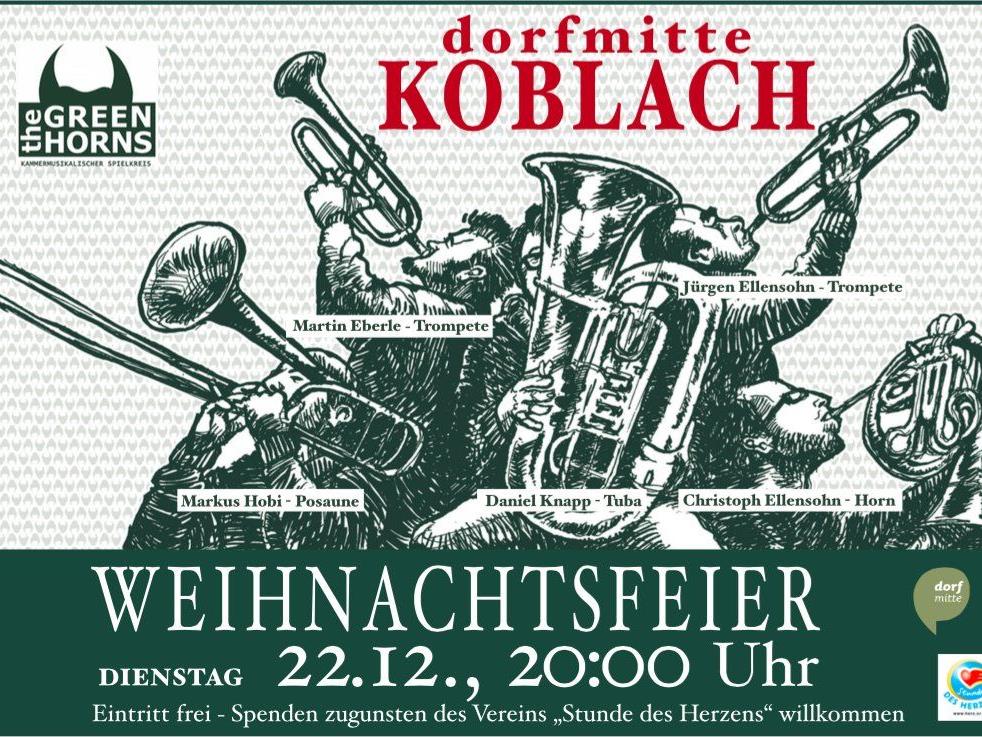 Traditionelle Weihnachtsfeier mit the GREENHORNS - kammermusikalischer Spielkreis in der dorfMitte in Koblach.
the GREENHORNS laden zur nunmehr schon 5.Weihnachtsfeier am 22. Dezember 2015 in der Veranstaltungsstätte dorfMitte Koblach www.dorfmitte.com ein. Es würde uns sehr freuen, wenn wir uns dort sehen. Auch in diesem Jahr geht es uns hauptsächlich um den Spaß an der Musik und das Zusammensitzen und Feiern mit neuen und langjährigen Freunden. Anstelle eines Eintrittspreises bitten wir auch heuer wieder um Spenden und zwar dieses Jahr für den Verein "Stunde des Herzens" https://www.facebook.com/Stunde.des.Herzens/, um deren Arbeit zu unterstützen.
Das Blechbläserquintett the GREENHORNS entstand im Jahre 2001 anlässlich eines Benefizfrühschoppens zu Gunsten der Rochus Kapelle in Koblach – Neuburg. Die 5 damaligen Studienkollegen des Vorarlberger Landeskonservatoriums, mit Wurzeln in der heimischen Blasmusik, arrangierten eigens dafür Polkas, Märsche, bekannte Melodien und Jazzstandards, die noch heute die Grundlage des Repertoires bilden. Jürgen Ellensohn, Martin Eberle, Christoph Ellensohn, Markus Hobi und Daniel Knapp finden sich seither in unregelmäßigen Abständen zusammen, um ihrer (musikalischen) Freundschaft zu frönen.
Eintritt frei! Spenden für Stunde des Herzens!
Kommet in Scharen! Wir freuen uns schon!
  https://www.facebook.com/the-GREENHORNS-Brass-Entertainment-312709448746689/?fref=ts
* Jürgen Ellensohn, Martin Eberle – Trompeten und anderes Gebläse
* Christoph Ellensohn – Horn, was er aber nach vorne raus spielt
* Markus Hobi – Posaune, teilweise mit klar erkennbarem Schweizer Akzent
* Daniel Knapp – Tuba und mehr oder weniger gepflegte Wortbeiträge