"European Deal of the Year" geht an Bregenzer Unternehmen Alpine Equity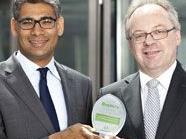 Bregenz/New York - Der Eigenkapitalfinanzierer Hubag managed by Alpine Equity ist kürzlich von Thomson Reuters für sein erfolgreiches Engagement beim Dentalspezialisten Amann Girrbach ausgezeichnet worden.
So wurde die Private Equity-Managementgesellschaft mit Sitz in Bregenz im Rahmen der Buyouts Awards 2011 der US-Verlagsgruppe in New York mit dem Award "European Deal of the Year" gekürt und gilt damit auch als erster Preisträger in der österreichischen Private Equity-Branche.
Alpine Equity brachte Amann Girrbach an die Spitze
Die Jury begründete die Auszeichnung damit, dass es der Hubag managed by Alpine Equity gelungen sei, Amann Girrbach auch in einem schwierigen Marktumfeld zu einem international gefragten Unternehmen zu entwickeln. Während des langjährigen Engagements der Hubag konnte das Dentalunternehmen den Umsatz von sieben Millionen Euro (2003) auf 46 Millionen Euro im Geschäftsjahr 2010 steigern.
Im Herbst 2010 wurde der erfolgreiche Exit an einen weltweit tätigen Finanzinvestor für die weitere Expansion vollzogen. "Diese Auszeichnung ist nicht nur eine Ehre, sondern auch ein wichtiges Zeichen, um mittelständischen Unternehmen ein positives Bild der Private Equity-Praxis in Österreich zu vermitteln", sagt Omer Rehman, Vorstand der Alpine Equity Management AG. Ein Award des Medienkonzerns Thomson Reuters gilt in Fachkreisen der Finanzbranche als besonders renommierte Auszeichnung. Die Gewinner der Vergangenheit wie KKR, Blackstone oder Carlyle gehören zum Who-is-who der globalen Private Equity-Szene.
Über Alpine Equity  
Die Alpine Equity Management AG mit Sitz in Bregenz managt seit 1999 die Hypo Equity Unternehmensbeteiligungen AG (Hubag), die auf die Eigenkapital-Finanzierung von mittelständischen Unternehmen in Österreich, Deutschland und der Schweiz ausgerichtet ist. Der Investmentfokus liegt auf wachstumsstarken Unternehmen sowie Buy-out-Transaktionen und ausgewählten Turnaround-Projekten. Mit einem Volumen der Hubag von rund 100 Millionen Euro und rund 20 Portfoliounternehmen zählt die Alpine Equity zu den führenden Private Equity-Managementgesellschaften in Österreich. (wiko)