Auf Experimentierkurs mit den "global kryner"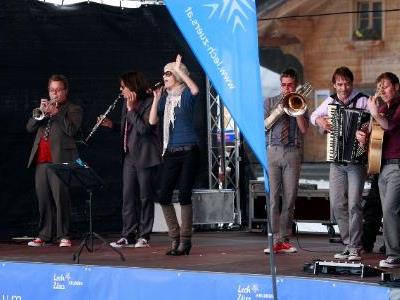 Lech. Am Sonntag, dem 19. April 2009 wurde in Oberlech der Frühling mit einem Neuling in der Reihe Jazz am Arlberg willkommen geheißen: die Global Kryner begeisterten ihr Publikum mit Spieleifer, Improvisationstalent und jede Menge Schmäh.
Das Wetter zeigte sich – wie auch schon die Jahre zuvor – von seiner besten Seite. So auch die Schneeverhältnisse, die Mitte April noch zahlreiche Skifahrer auf die Lech Zürser Pisten lockten, ehe sie sich in Oberlech zur Mittagszeit einfanden, um das alljährliche Jazzspektakel zu genießen.
Als Vorgruppen konnten Toni Gulizia – the Ambassador of Music – mit Band aus Beaver Creek und die Big Band der Musikschule Lech gewonnen werden, die teils getrennt und dann wieder gemeinsam die Bühne "jazzten". Im Repertoir der Big Band, die 24 Mitglieder im Alter von 13 bis 59 Jahren zählt, fanden sich Stücke aus den Bereichen Swing, Funk, Rock- und Latin-Jazz, aber auch Popmusik wie z.B. "Let Me Entertain You" von Robbie Williams. Zum Stamm der Band zählen mittlerweile auch namhafte, professionelle Musikerkollegen aus der österreichischen Jazz- und Popszene. Die bekanntesten davon sind Opus Schlagzeuger Günther Grasmuck und STS und Ambros Bassist Erich Buchebner. Tony Gulizia und seine Brüder, die aus Lechs Parnerort Beaver Creek angereist waren, jazzten und swingten in gewohnt lässig-amerikanischer Manier mit der Lecher Big Band um die Wette.
Auf ein entsprechend "warm gespieltes" Publikum trafen dann die Global Kryner, die leider ohne ihre Sängerin Sabine Stieger auftreten mussten, da dieser just am Abend vor ihrem Auftritt eine Kehlkopfentzündung diagnostiziert wurde. Die Kryner schafften es dennoch in all der Kurzfristigkeit einen adäquaten Ersatz aus Innsbruck zu "importieren": Carmen Mayer improvisierte professionell und überzeugte mit beeindruckender Stimmgewalt, die man der zarten Sängerin zuerst nicht zugetraut hätte.
Die sechs österreichischen Musiktalente (inklusive Substitutin Carmen) interpretierten unsterbliche Jazz- und Pop-Hits wie "Somewhere over the Rainbow", "Proud Mary" oder Madonnas "Like a Virgin" im alpinen Oberkrainer-Sound. Wer die sechs einmal live erlebt hat, ist im Endeffekt nicht nur von deren musikalischem Talent beeindruckt, sondern auch von den kabarettistischen Einlagen des Klarinettisten und Sängers Christof Spörk, der den "Wiener Schmäh" kurzerhand nach Oberlech verfrachtete. So wurde der Tontechniker mal eben auf die Bühne gerufen, um beim Refrain zu "Wladimir & Mohammed" mitzusingen, oder wurden vorbeifahrende Skifahrer zum Mittanzen aufgefordert. In ihren Pressetexten heißt es ganz richtig: "Sie spielen uns schwindlig. Sie blasen uns gnadenlos den Marsch. Sie verpassen Billy Joels "Honesty" einen Dreiviertel-Rhythmus und drehen Duke Ellingtons "Caravan" durch den Polka – Fleischwolf. Und die sechs österreichischen Vollblut-Musiker machen das so unverschämt gut und mit einer derart ansteckenden Spielfreude, dass ihre abgefahrenen Arrangements das Auditorium zum Rasen bringen." Diese vielversprechende Selbstbeschreibung bringt auf den Punkt, was das Publikum am Sonntag Nachmittag in Oberlech erleben durfte. Drei Zugaben mussten gespielt werden, ehe die Global Kryner von der beschwingten Zuhörerschaft in den Oberlecher Spätnachmittag entlassen wurden.