"Meor sand vom Breogazarwould"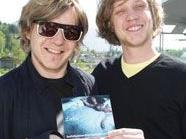 Schwarzach -  Genug geübt an der Aussprache des Songtitels. "Vorreaßo, vorkouft, as louft" dürfte mittlerweile geschmeidigst über die Zunge gehen. Jetzt ist die Zeit reif für mehr. Morgen, Samstag, präsentiert der "Holstuonarmusigbigbandclub" sein komplettes Meisterwerk "Lieble".
Der Titel lässt Spielraum für Interpretationen: "Auf der CD sind nur eigene Nummern. Dafür haben wir ein Stück weit unser ,Lieble' (Anm. T-Shirt) hergegeben. ,Lieble' ist aber auch die Verniedlichung von Liebe", erläutert Frontman Philipp Lingg. Was es darauf zu hören gibt? 14 Songs, die sich zwischen Funk, Pop, Rock, Raggae und Volksmusik bewegen. Den Rest, den erklären Philipp Lingg und Andreas Broger am besten selbst.
Was es auf der pressfrischen HMBC-CD zu hören gibt.
Vorreaßo, vorkouft, as louft: Eine Geschichte rund um Plattenboss Herr Pabügen. "Das Lied soll aufzeigen, für welche Werte der HMBC steht. Wir wollen unsere Freiheit nicht an ein Plattenlabel verkaufen."
What happened to the Edelweiß I gave you last night?: Ein Song zwischen "Lost in Translation" (Englisch und Wälderisch) und der großen Liebe. "In alpinen Gegenden gilt das Edelweiß als ultimativer Liebesbeweis. Um die Blume zu pflücken begibt sich der Mann in große Gefahr. Der Protagonist des Liedes fühlt sich ausgenutzt, da die Frau die Blume nur als Trophäe nimmt." Autobiografisch? "Vielleicht."
Trumpets everywhere: Der HMBC inmitten von Bier, Fleisch und Balkanmusik: "Ein paar von uns waren im letzten Jahr auf einem Festival in Guca/Serbien. Das war sehr eindrucksvoll. Der Song handelt von der Wehmut, wenn man wieder nach Hause zurückkehrt."
Vo Mello bis ge Schoppornou: Ohne Worte.
Marsch der Wälder: "Eine Glorifizierung des Bregenzerwaldes."
He-ho: "Ein Spiel mit den verschiedenen Volksmusikformen. Eine experimentelle Nummer zwischen Jodeln, Walzer und Jazz."
Dahoam bi meor: "Ein Volksmusikwalzer, der eventuell beschreibt, wie schön es in Stefans Garten in Langenegg ist."
Happy Banana Joe: Ein Lied im Dixieland-Stil. Und wer ist Banana Joe? "Johannes. Der lässt immer die Bananenschalen im Studio liegen."
Trauerwalzer: Das Gegenstück zu Banana Joe.
Wible, Wible: "Entstanden ist es auf der Zugfahrt von Wien nach Vorarlberg. Es ist ein Liebeslied, eine Hommage an Fräulein E. Wer den Text genau liest, weiß, worum es geht."
Hold me down: "Loan die zruck, sus wiascht varruckt" – eine Abrechnung mit dem Stress: "Stress kann aber auch positiv sein."
Seven: Zurück in Guca."Eine Hommage an die Dosenmusiker aus Osteuropa."
Dr Bus: Traurig, aber wahr. "Es handelt von einer Freundin, die den Bregenzerwald zunächst wunderbar findet. Irgendwann ist ihr die Idylle jedoch zu wenig."
Funk bis ge Schoppornou: Die Funkversion von "Vo Mello bis ge Schoppornou".